Police are looking for a man who reportedly exposed himself to a woman before stalking her on social media earlier this year.

At about 11:30 p.m. on January 10 – in the freezing cold – the suspect, 58-year-old Kenneth Hoyt, approached a 27-year-old female victim from behind and "opened up his jacket, fully exposing his genitals to her."
A police spokesperson says the incident took place on 83rd and First Avenue.
Advertisement
Following the incident, police say Hoyt has "made numerous amounts of unwanted social media contact with the victim, detailing her movements throughout her day."
Kenneth Hoyt has been on the sex offender registry since 1987. His first recorded crime (at least in New York) victimized a 13-year-old girl. The registry does not describe the nature of this crime, but he was sentenced to three years probation as a result. Hoyt was 22 at the time.
An NYPD spokesperson says he has 11 prior arrests for charges including public lewdness and prostitution.
According to the registry, Hoyt currently lives in the Bronx.
In 2017, Hoyt was arrested when he "refused to wear pants on the subway," the New York Post reported that year.
In 2009, a CA publication called Redlands Daily Facts reported that Hoyt – then living in Hollywood but known in New York City as "The Subway Fiend" – had been arrested for "allegedly following and harassing two teenage girls while driving in the Southland [area]." It's unclear when the first NYC subway incident actually took place to have earned him this nickname.
The publication also noted that Hoyt had been convicted of a sex offense in California in 1986 but failed to register.
Police describe Kenneth Hoyt as a white male with long blonde hair and hazel eyes, standing 5'9″ and weighing about 180 pounds. (The sex offender registry – and the photo below – both indicate that his hair is black.)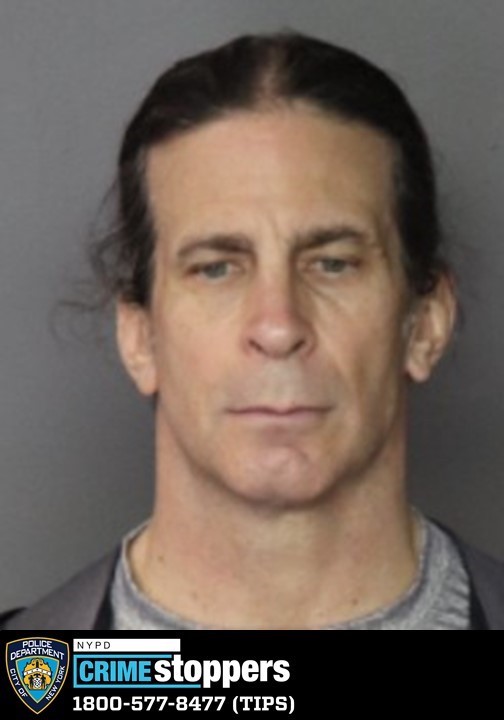 Anyone with relevant information is asked to call the NYPD's Crime Stoppers Hotline at 1-800-577-TIPS (8477) or for Spanish, 1-888-57-PISTA (74782). The public can also submit their tips by logging onto the CrimeStoppers website or by sending a direct message to @NYPDTips on Twitter. All calls are strictly confidential.