The NYPD is searching for a man who stabbed three women on Sunday afternoon. The first two stabbings took place at an Upper East Side subway station.

According to police reports, it was approximately 4:15 p.m. when a 19-year-old female exited a southbound 4 train at the 86th Street subway station. As she walked up the platform stairs towards the mezzanine, an unknown male suspect approached her from behind and slashed her right leg with an unknown sharp object.
Moments later, the same suspect approached a 48-year-old female from behind as she stood on the southbound platform, slashing her right leg as well.
NYPD sources confirmed with East Side Feed that there was no connection or relation between these two victims.
Both women were transported by EMS to an area hospital and treated for their injuries, while the suspect fled on a southbound 4 train.
Advertisement
It was on this 4 train that police say he targeted his third victim when it was approaching the Brooklyn Bridge-City Hall subway station at about 4:32 p.m. The suspect approached a 28-year-old female sitting on the train and again, slashed her left leg with an unknown sharp object. This victim was transported by EMS to an area hospital where she was treated for a severe laceration to her left leg.
The suspect then exited the train at the Brooklyn Bridge-City Hall station and was last seen fleeing through the Chambers Street subway station exit. 
Police obtained the images and video below from the MTA at the location of the second incident after it took place.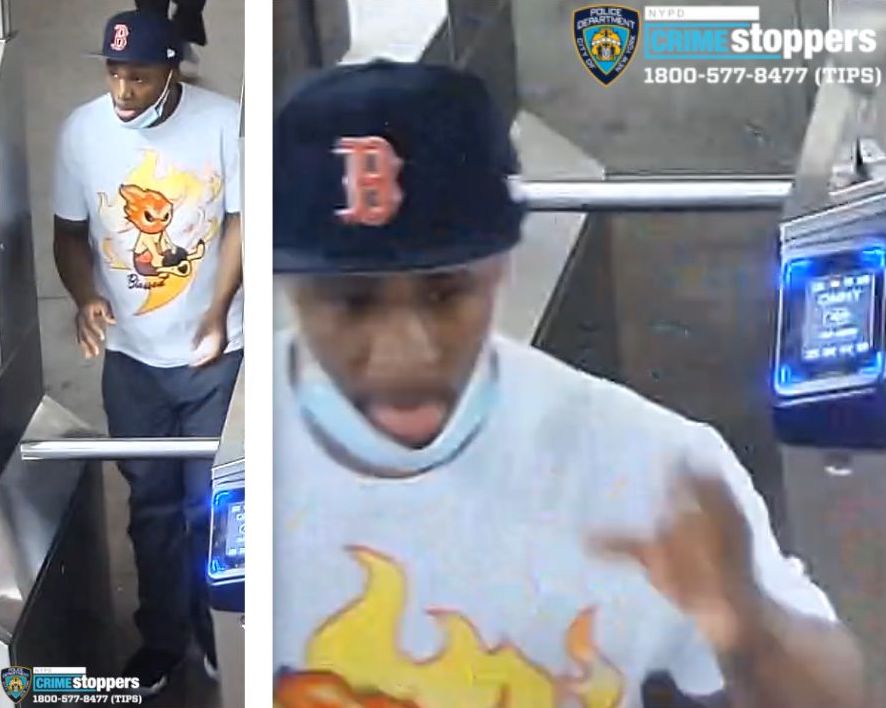 Police say the suspect is about 5'8″ and 220 pounds.
Anyone with relevant information is asked to call the NYPD's Crime Stoppers Hotline at 1-800-577-TIPS (8477) or for Spanish, 1-888-57-PISTA (74782). The public can also submit their tips by logging onto the CrimeStoppers website or by sending a direct message to @NYPDTips on Twitter. All calls are strictly confidential.