Two men are being sought by police for strong-arming smoke shops for cash and product, having robbed stores on the UES and in Queens during July and September.

Just yesterday, the NYPD's efforts got a boost when a surveillance photo of one of their suspects was released. And here's that suspect looking right at the camera.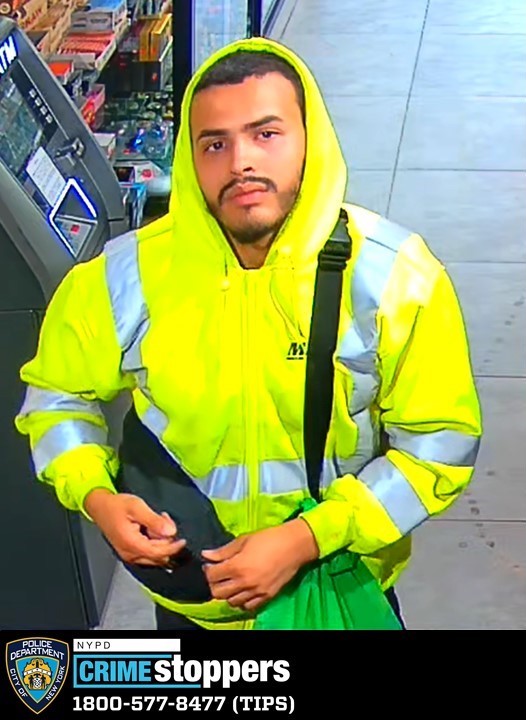 The photo above was captured from the first incident police have on record, which took place on July 24 at about 4:13 p.m. That's when the man above and an accomplice entered the smoke shop at 1490 First Avenue between 77th and 78th streets (Buzz City). One of the suspects displayed a hammer to a 20-year-old male employee and took money and merchandise worth approximately $3,850, according to NYPD officials. The other suspect concealed the property in a bag and they both fled.
Click here to get East Side Feed in your inbox.

Advertisement
The next incident took place on September 8 in Queens, when one of the suspects reportedly entered the shop, took out a knife and grabbed about $500 from the cash register.
On September 20, one of the suspects went back to Buzz City and displayed his knife to an employee, this time a 22-year-old male. It's not completely clear if the suspect in question is the one pictured above or his accomplice, but in any event, he got off with about $2,000 in cash this time, in addition to various merchandise. He fled south down York Avenue on a scooter.
The last recorded incident took place on September 22, when the pair went to a different smoke shop in Queens, displayed a knife, and took off with about $400 in cash and $600 in merchandise.
Anyone with relevant information is asked to call the NYPD's Crime Stoppers Hotline at 1-800-577-TIPS (8477) or for Spanish, 1-888-57-PISTA (74782). The public can also submit their tips by logging onto the CrimeStoppers website or by sending a direct message to @NYPDTips on Twitter. All calls are strictly confidential.