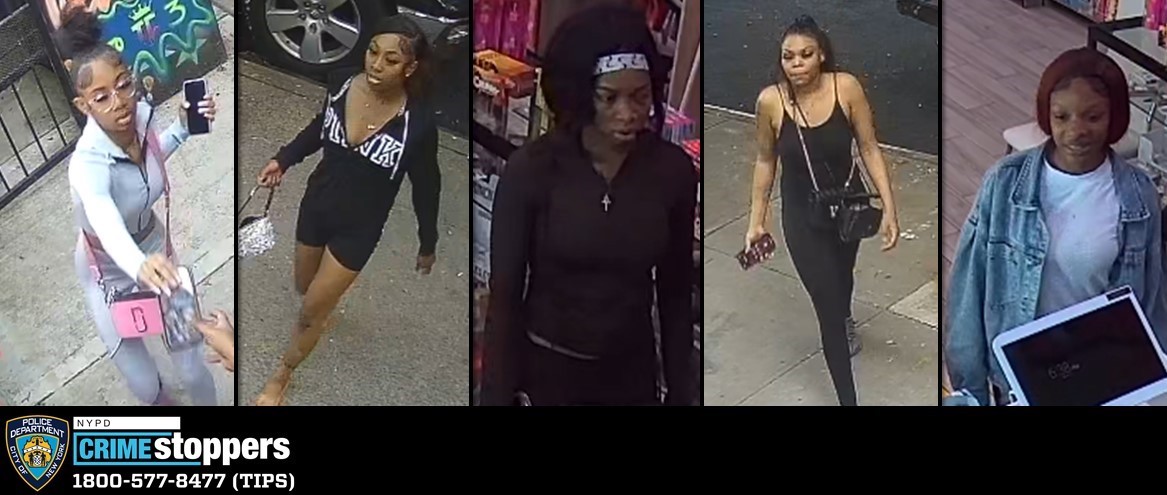 Police are searching for five female suspects wanted for committing a string of robberies last month, one of which took place on the Upper East Side.

Advertisement
The first incident occurred on Sunday, May 21 at about 2:00 a.m., when four of the suspects approached a 44-year-old for-hire male driver in his car parked in front of 374 Ralph Avenue in Brooklyn where he was waiting for a customer. The suspects entered his vehicle and "began punching him about the head and body," according to police reports. When they demanded his car keys, the victim tried to exit the vehicle but the suspects continued to assault him and forcibly removed his car keys. The four suspects then fled the location in the stolen car, which had some of the victim's belongings like identification documents and headphones. EMS responded and treated the victim on scene for his injuries.
The second incident took place just a few hours later on the Upper East Side, and the suspects again targeted a for-hire driver. This time, it was a 58-year-old man parked outside of 401 East 88th Street waiting for a scheduled pickup. Two of the suspects approached and again punched their victim in the face and body. They grabbed his wallet and fled back to the car they had stolen during the first attack. The victim sustained minor injuries and refused medical attention on scene.
The third and final incident on record took place the following evening at about 6:40 p.m. This time, it was all five suspects, and they were back in Brooklyn to rob a store located at 1293 Myrtle Avenue. Once inside, one of the individuals removed edible merchandise from the store without paying for it. A 20-year-old female employee attempted to stop the suspect, which led to a verbal dispute. All five suspects then began punching the victim in the face before stealing her phone and about $150 from behind the counter. They then fled in the stolen car from the first incident, and were last seen traveling west on Myrtle Avenue. The victim sustained minor injuries and refused medical attention on scene.
The stolen vehicle from the first incident was recovered parked and unoccupied on Wednesday, May 24 in front of 110 New York Avenue in Brooklyn.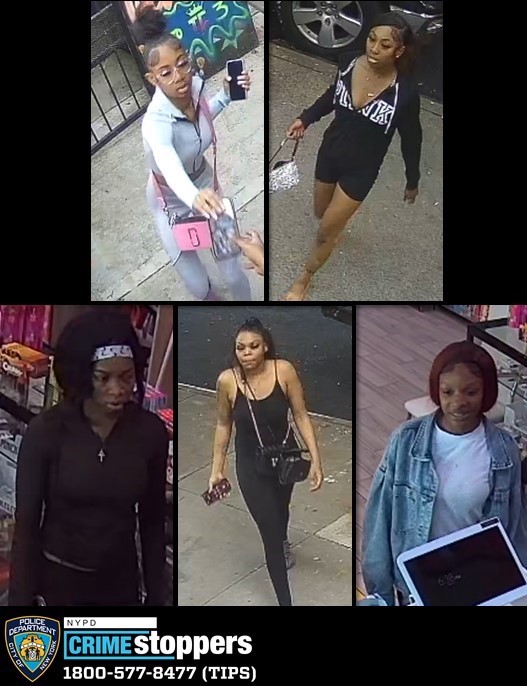 Anyone with relevant information about these suspects is asked to call the NYPD's Crime Stoppers Hotline at 1-800-577-TIPS (8477) or for Spanish, 1-888-57-PISTA (74782). The public can also submit their tips by logging onto the CrimeStoppers website or by sending a direct message to @NYPDTips on Twitter. All calls are strictly confidential.