Three life-size works by artist Jim Rennert have been installed in New York City's Pershing Square Plaza West, located on the west side of Park Avenue between East 41st and East 42nd Streets. Each sculpture stands over 6 feet tall and depicts the daily struggles and achievements of everyday people. The sculpture installations are being facilitated as part of the New York City Department of Transportation's Temporary Art Program.

Rennert's works aim to represent the meeting point between the business world and the everyday lives of ordinary people, similar to the way that Pershing Square represents the joining of the business and community aspects of landmark Grand Central Terminal's neighborhood. Each statue has been designed to represent a different aspect of the fast-paced life of the surrounding area.
Timing: "A representation of a person looking anxiously at their watch, relates to the various aspects of business life and the daily struggle between yourself and others. From being at the right place at the right time to having the right opportunity, the importance of timing is essential."
Inner Dialogue: "The small figure that stands in the palm of the hand of a larger life-size figure is metaphorically speaking to their own conscience, showcasing the familiar feeling of having a conversation with that small voice within."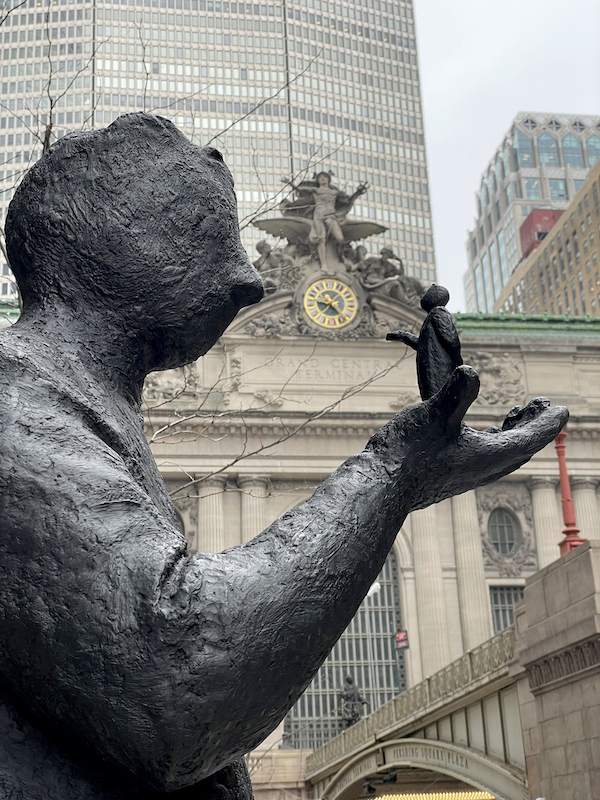 Listen: "Invites viewers to pause and reflect amidst the ever-changing and fast-paced world around them. Listening is an acquired skill, and if we take a moment to pause and listen to others, then the real communication can begin."
"Taken together, these three concepts encapsulate the thoughts and feelings of anyone passing through the plaza, whether they're late for an important meeting, contemplating their next big move, or just taking a break from it all," said Jim Rennert. "When a visitor sees these pieces, they may very well see them as a kindred spirit doing exactly what they are doing. While not everyone wears a suit, I feel the themes transcend to everyone."
"When Pershing Square Plaza West first opened to the general public in May 2019, we hoped it would regularly attract temporary art installations from world renowned artists," said Fred Cerullo, President and CEO of Grand Central Partnership, Inc. "So, as the Grand Central neighborhood begins to come back to life after a tough year, we are really excited that the Plaza will play host to three dynamic, larger-than-life sculptures created by Jim Rennert."
The statues will remain on display at Pershing Square Plaza West across from Grand Central Terminal through December 2021.