Turning the corner from First Avenue onto 62nd Street is a palace on the Upper East Side. Crystal chandeliers illuminate the entrance. The floors are decorated with ornate tiles that form a mandala-like mosaic.

On the creamy white walls are beige candles beaded with henna-style butterflies and colorful paintings of men and women donning traditional Indian attire playing instruments and dancing.
In the background, ghazals (ancient Indian poetic songs) and old Bollywood songs are playing.
A statue of a brown elephant adorned with mirrors and henna designs and wearing a flower garland around its neck sits on a table towards the back.
Unlike the sort of palace you might be thinking of, kings and queens do not live here. You will, however, find richness in the food served.
This palace is called India Palace, and it is the Upper East Side's newest Indian restaurant.
Advertisement



At India Palace (401 East 62nd Street), you'll find the customary staples that most Indian restaurants offer, such as complimentary papad (crispy black gram flour-based chips) with accompanying assorted chutneys (sauces); samosas (deep-friend potato pastries); tandoori chicken; and channa masala (chickpeas cooked in a tangy spicy sauce).
READ MORE: Sandro's to Return to Upper East Side
What sets this Indian restaurant apart from many others in the area, however, is that in addition to the authentic conventional dishes that will remind Indians of home, it also serves typical Western dishes with an Indian twist. For example, you could get chicken wings as an appetizer, but these are not your ordinary chicken wings. Instead of the barbecue sauce you might be expecting, you'll taste a curry-like sauce made with Indian spices. You can also try the restaurant's onion rings (listed on the menu as onion pakoda), but with a slightly smoother texture than typical Western onion rings and a galore of Indian spices. If you're craving a combination of seafood and vegetables, the Bengal shrimp with asparagus would be the perfect option for you—a recipe that you are unlikely to find anywhere else. Are you a vegetarian looking for a good mix of protein and vegetables? Then you'll definitely want to try to daal (lentils) broccoli.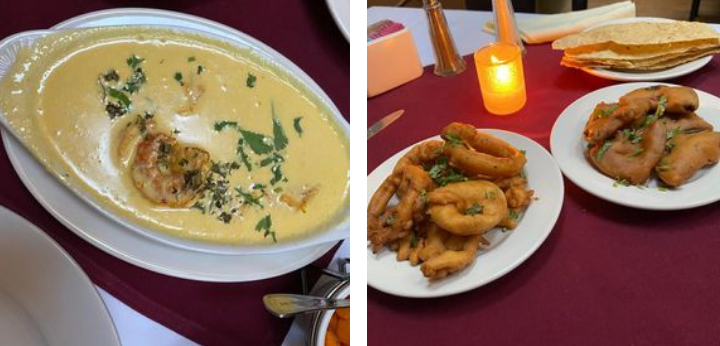 The unique array of dishes served at India Palace represents a blending of different cultures—quite reminiscent of the city in which the restaurant finds itself—making it a spot where almost anyone can find something that appeals to them.
Depending on the time of your meal (it's open daily from 11am to 10:30pm), the friendly waitstaff may offer you complimentary kheer (rice pudding and with milk rice and flavored with cardamom and nuts) after your main course.
You can also bring India Palace to you by ordering on Uber Eats, Grubhub, or DoorDash.
Bhojan kaa aanand lijiye! (Enjoy your meal!)