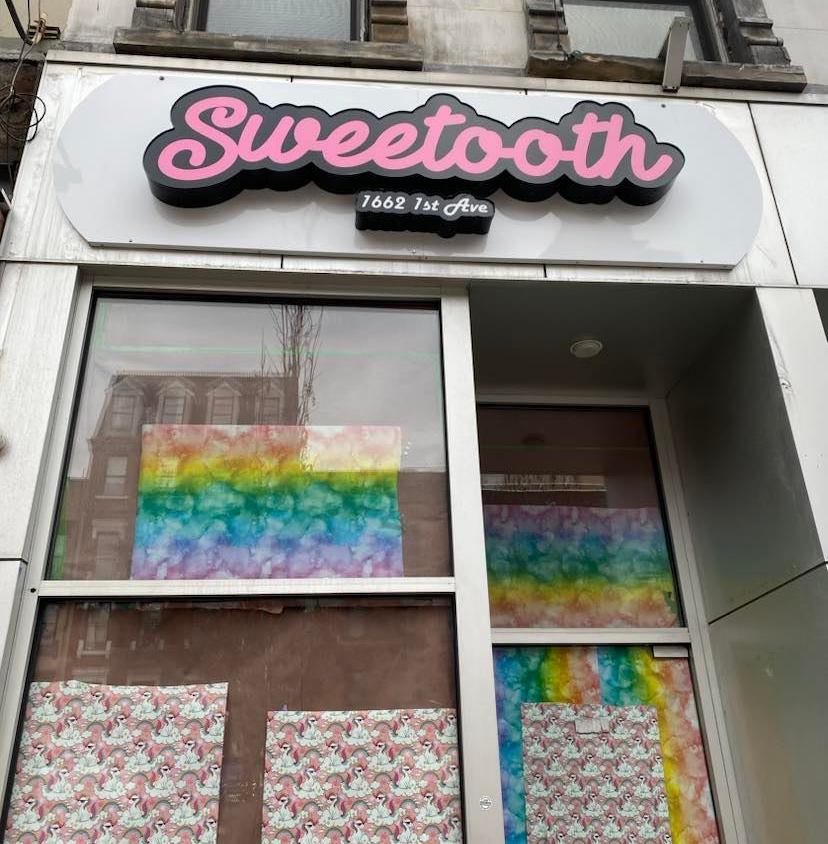 From cookies to cupcakes to fudge bites, Sweetooth serves a variety of baked goods for any sweet tooth's appetite.
But Sweetooth is no ordinary bakery. Self-described as New York City's first THC bake shop, it opened its first outpost in the East Village late last year and will soon be expanding to the UES.
Advertisement



Its storefront at 1662 First Avenue (at 87th Street) is expected to open February 5.
For anyone unfamiliar with THC, it stands for tetrahydrocannabinol and is one of hundreds of chemical substances found in cannabis plants, though it is primarily responsible for the effects of marijuana on a person's mental state. The other commonly known cannabinoid is CBD.
The Upper East Side opening of Sweetooth is occurring amid an abundance of activity around cannabis in New York City. Per NYC Health, it's currently legal for adults 21 and older to possess up to three ounces of cannabis and up to 24 grams of concentrated cannabis for personal use. Adults may smoke or vape cannabis wherever smoking tobacco is allowed – with the exception of motor vehicles (even if parked) and in outdoor dining areas. After alcohol, cannabis is the second-most commonly used recreational drug in the city.
Just before the New Year, the first legal sale of recreational cannabis took place at Housing Works Cannabis Co in Greenwich Village. The opening of the dispensary followed a March 2021 law giving priority to those adversely affected by marijuana laws. Among the presence of several illicit cannabis shops and vendors, the first legal sale did not take place until December 29, 2022. A New York Times article states that the marijuana industry is projected to generate $4 billion over the next five years.
Advertisement
Sweetooth's Instagram page displays an assortment of THC-infused baked goods, candies, and drinks. Items on the feed include cupcakes, brownies, macarons, cake pops, cookies, fruit chews, donuts, green tea lemonade, and even cakes. Vegan and gluten-free options are available, and dosage amounts are listed. Sweetooth is a 21+ business.
We've contacted Sweetooth with a few additional questions about the business. We'll update this post if and when they write back.