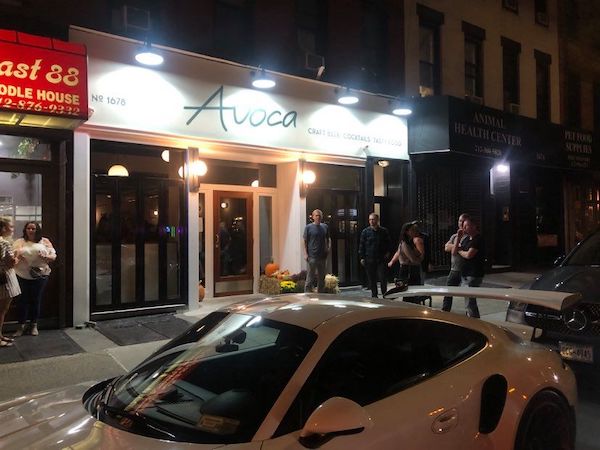 It all came together at Avoca on the evening of Saturday, October 16. The new bar and restaurant at 1678 First Avenue, between East 87th and East 88th Streets, held its grand opening party with an open bar and snacks from 7-9pm.
The place was packed when I arrived around 7:30pm. I wasn't expecting such a raucous scene as I snaked my way to the bar and asked for a double shot of Jack (neat), since getting anyone's attention back there was a tall order at this point. And rightly so; the joint was jumping and the staff-to-attendee ratio was out of whack, so an old bar rule came into play: make the most of your order when you come up as you'll likely be waiting a while again.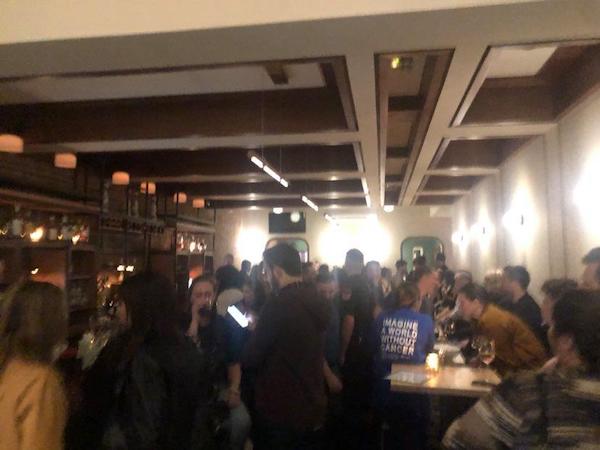 I took a tour of the space and found an outdoor patio in the back. It'd be great if they had a second bar back here but alas, they got some platforms laid out and dimly lit – a nice spot to get away. I turned back around and was able to score a seat at the bar after about ten minutes. I got lucky as the crew to my left and right stayed here with me until the end.
It was a lot easier to score a drink in the bar position. Credit to the staff, they were 'on the spot' all night. Especially considering how busy the place was with free drinks flowing. It was seemingly never-ending pouring as the team shifted between one and three bartenders.
I was unable to order any stouts due to some broken keg lines and undelivered bottles. You know, early restaurant supply chain issues. So I stuck with Brooklyn Lagers for the rest of the night as I rocked out to the evening's playlist which included Third Eye Blind ("How's It Going To Be"), The Cranberries ("Linger") and Hootie and the Blowfish ("Only Wanna Be With You"). They did a sound job of mixing those generic classics with some more acquired-taste throwbacks, my favorite being "Lump" by The Presidents of the United States of America. The jam of the night was probably Dire Straits' "Walk of Life," which everyone seemed to enjoy.
Getting into the food was another story. It was feast or famine in a lot of ways, purely luck of the draw. With so many people in the house, as soon as anything came out, people were clamoring to have the waiters put plates in front of them and they didn't seem to be coming out with a lot. The team did their best to spread it around though.
I saw big bowls of seasoned French fries and small bowls of some kind of green peppers before I hit the jackpot with a plate of seven cheeseburger sliders put next to me. Thank you! I suspect it was feta cheese on top and, perhaps, kimchi on the bottom. They were surprisingly good; my compliments to the chef.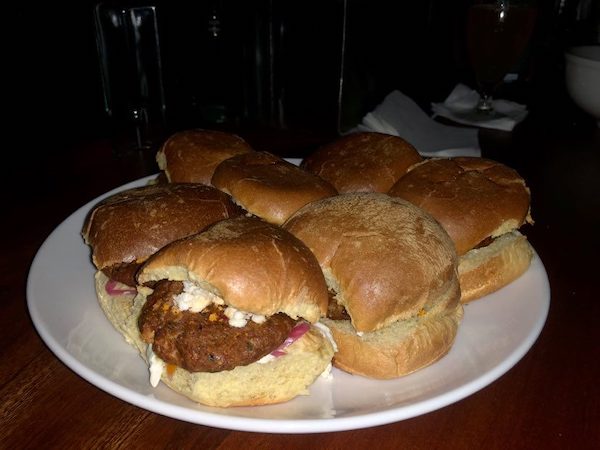 Avoca, which generally translates to "a meeting of the waters," reminds me a little of the Murray Hill bar scene, in particular Joshua Tree (RIP). If you're rolling with a big crew and can take up some real estate, Avoca is probably a good bet, but if you're solo and looking to chill, I'd head for open waters.
For updates and more info, visit @avoca_nyc on Instagram.