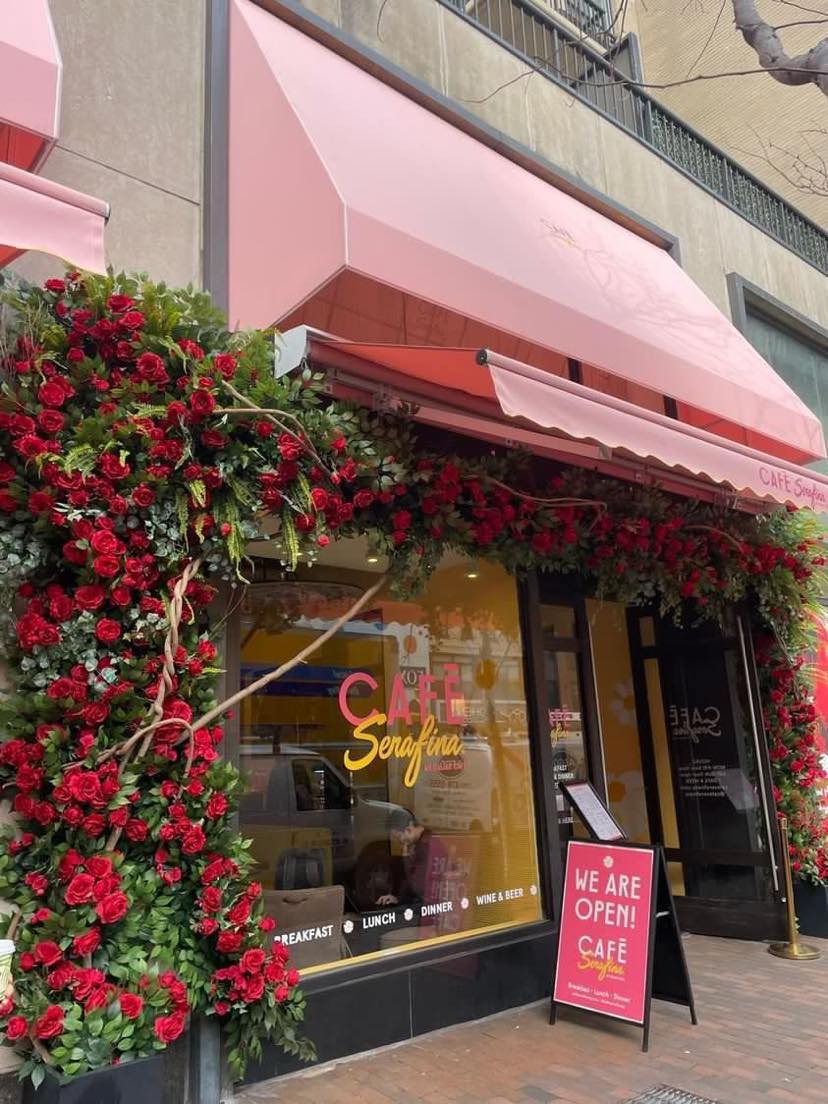 Cafe Serafina's fifth location is now open at 1492 Third Avenue (between 84th and 85th streets). Serafina, the popular restaurant chain which boasts 15 locations in the tri-state area and a smattering across the globe (from Tokyo to Turkey), initially rolled out its fast casual spin-offs last year.

Advertisement
The first Cafe Serafina arrived in the Financial District, with branches popping up shortly thereafter in Gramercy, Greenwich Village and Columbus Circle.
The spacious eatery (which replaced clothing retailer Loft) offers ample seating for breakfast, lunch, dinner and beverages (including beer, wine and coffee concoctions). The menu is somewhat similar to a standard Serafina, doling out staples like salads, pasta (featuring eight vegetarian options) and pizza (in two sizes, ranging from $14 to $39).
Unlike their slightly fancier counterparts, Cafe Serafina's menus boast breakfast (think egg sandwiches from $7 to $10, pastries and avocado toast with smoked salmon) and a wide range of sandwich options (such as a caprese on rosemary ciabatta for $9 at the most affordable end, and a sirloin steak panini for $17 at the top). More traditional entrées include a Faroe Island salmon (priced at $20, a $10 discount from a similar dish at Serafina's 79th Street location) and an organic chicken ringing in at $20. A dinner special will run you $21.95, and includes your pick of pasta or pizza and wine or beer. With the rising cost of eating out in NYC due to inflation, any special seems like a solid deal.
While the all-day cafe is a prominent model in Europe, it's certainly less omnipresent stateside — but founders Vittorio Assaf and Fabio Granato are seeking to change that. "In Italy, the local cafe is where your day begins with your morning espresso, where you meet friends, share stories, grab lunch, enjoy tea-time. But also, the cafe is where you end your day over a dinner with a glass of wine or an aperitivo," they note on the brand's website.
Advertisement
And speaking of Assaf and Granato, their origin story is certainly of note. Ahead of founding their first red sauce sensation in 1995 — Serafina Fabulous Pizza on 79th and Madison Avenue — the longtime pals became stranded at sea in a small boat. "The wind was chilling, the waves were high and who were the two lunatics who were going on a boat? Me and him,"
Granato recalled
 back in 2015. To distract themselves while waiting for the coast guard, they gabbed about grub — specifically pizza. "We talked about pizza made of a special flour coming out of a special oven and at that moment, all we wanted to do was change the whole perception and formula of an Italian restaurant."
Cafe Serafina is open from Monday through Friday from 8 a.m. to 8 p.m., and Saturday and Sunday from 9 a.m. to 6 p.m.