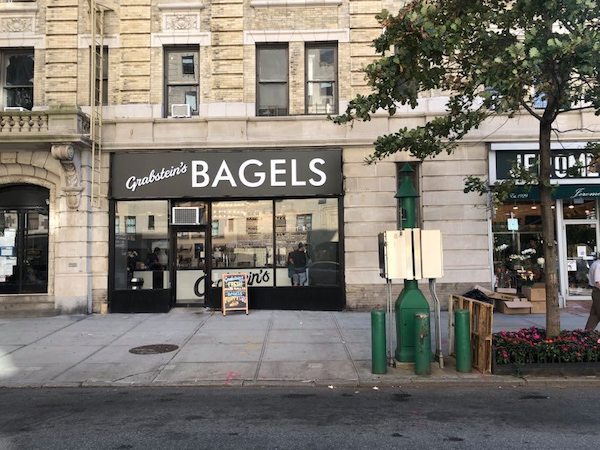 Grabstein's Bagels has opened its doors at 50 East 96th Street, between Fifth and Madison Avenues. When we first found out about the new spot, we wondered if this Grabstein's was related to the famous Grabstein's Delicatessen from Canarsie, Brooklyn, which shuttered around 1999. So, we took a trip over and can confirm these are not the Brooklyn Grabstein's.

However, it does turn out that the proprietors also own Pick A Bagel, which has locations on both the Upper East Side and in Midtown West.
The team behind Grabstein's – Alan Philips, Jiansong Chen and Pongshing Chiu – were also the key ingredients in the opening of Wu + Nussbaum at 2897 Broadway, at West 113th Street. This was the former home of Nussbaum and Wu, which closed in June of 2019 due to apparent neglect and health violations. They chose the name to pay homage to the original bakery, which was beloved by many, especially Columbia University students.
Grabstein' Bagels is "Family Owned and Operated Since 1985, with kettle cooked hand rolled Authentic New York Bagels," reads its Instagram page.
They were sold out of cinnamon raisin bagels when we arrived on Monday afternoon. They did have a flat ('flagel') cinnamon raisin, but we were craving a classic, so we tried an everything bagel with cream cheese and it did not disappoint.
Grabstein's menu also touts a lineup of iced drinks, coffee, and a La Marzocco Espresso machine. They suggest adding lox to your sandwich for full effect and also offer avocado toast, oatmeal, BLTs, egg sandwiches, burritos, salads and something called 'Eggs in a Cup,' which is 3 eggs, avocado, cheese and spinach served in a cup. We'll have to try that next time.
A staffer at Grabstein's told us they don't currently have a phone number or a website. Also, no 'to go' menus at this point.