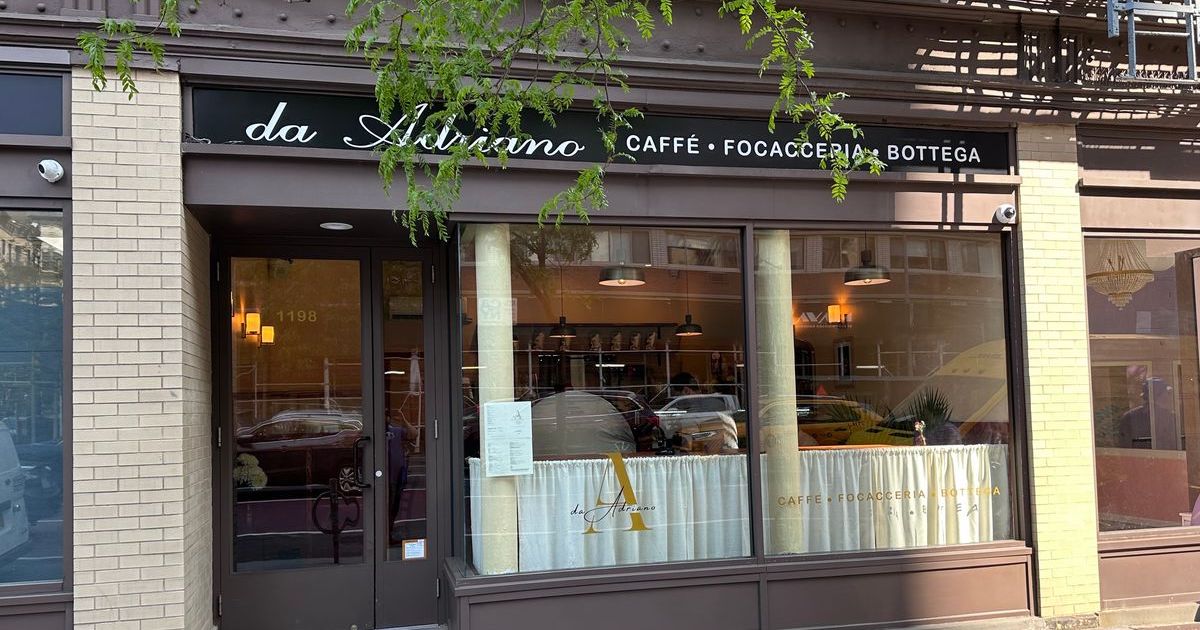 A new Italian cafe, da Adriano, is now open at 1198 First Avenue (between 64th and 65th streets), formerly home to Oaxaca Taqueria.

The new spot comes from Chef Adrian Kercuku, who most recently worked as the executive chef at Casa Lever in Midtown, and brings eighteen years of experience working at restaurants in Italy, France and New York, according to the restaurant website.
Advertisement
The space comes with 19 seats and 500 square feet of space, according to
Patch
, and early
reviews
(while limited) praise the cozy eatery's coffee, pastries, pasta, sandwiches and focaccia.
da Adriano serves coffees and espressos ($4/$5) made from its top-of-the-line Faema E61 Espresso Machine, plus a macchiato ($5), cappuccino ($6) and cioccolata calda ($8) (a dense semisweet hot chocolate). Customers can also choose between several cold drink options such as iced latte macchiato ($6/$7) and an iced chai latte ($8).
The focaccia comes six ways, with prices ranging from $12-18. On the upper end of that is da Adriono's Mortadella e Pistachio, and on the low end is its Caprese.
More Upper East Side Openings, Here
If bread isn't on the agenda, customers can choose between several small pasta dishes ranging between $17 to $25. da Adriano's Rigatoni al Pomodoro is a classic homemade rigatoni dish with tomato sauce and basil, or if you want a heartier option, La Chiantigiana di Adriano is made with slow cooked braised beef.
The new spot also offers four salads ($15-$18) including its La Misticanza (mixed lettuce, mozzarella, avocado, pomodorini, olive, dijon dressing) and Adriano's Salad (chicken, avocado, spinach, pomodorini, goat cheese, berries and nuts).
The menu also offers pastries and desserts (like cookies, tiramisu and flourless chocolate cake), a meat and cheese plate, spinach and ricotta crepes and homemade veal and beef meatballs.
da Adriano is open Monday to Sunday from 7:30 a.m. to 6:00 p.m.