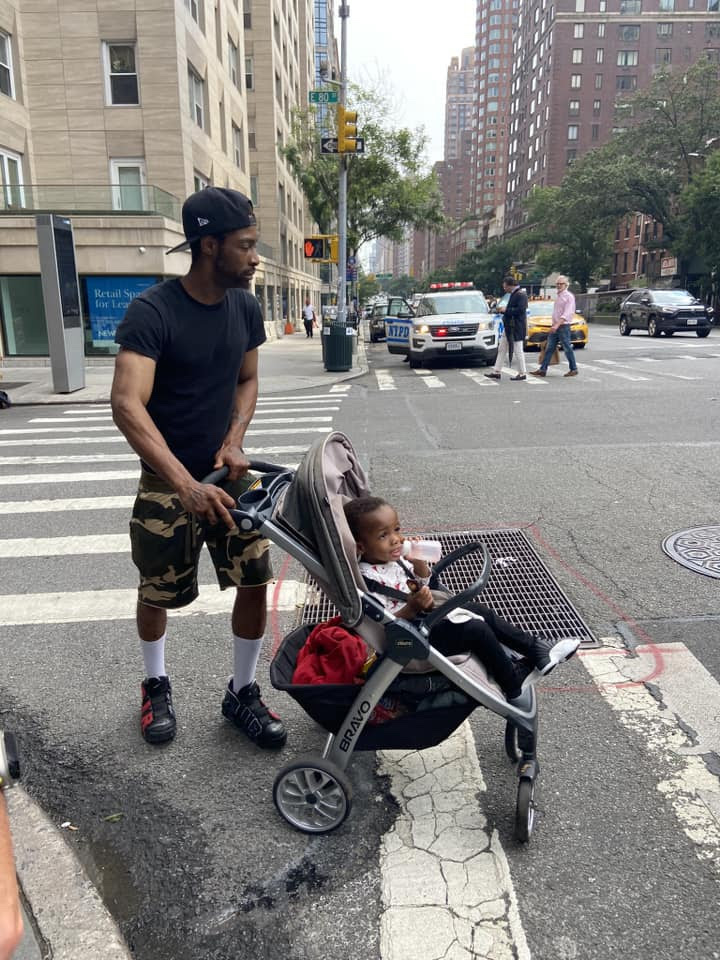 The man pictured above has allegedly been terrorizing the Upper East Side for months, with a growing spate of attacks and multiple police reports. Assaults against unsuspecting Upper East Siders have come in the form of spitting, pushing his stroller (with child in tow, at least sometimes) into people in the subway station and around the neighborhood, and forcefully hitting people and animals, causing bodily injury.
Advertisement



I've been a New Yorker and Upper East Sider for decades, and consider myself pretty street savvy. However, something I never anticipated happened to me recently. On Monday, August 14 at around 11:20 a.m., I was walking north along York Avenue with my little dachshund, Biggie Smalls. As I neared 85th Street, this very man – who at the time I did not recognize from other reports – lunged towards me and spat in my eye.
UPDATE: Stroller-Wielding Menace ARRESTED
The wordless and unprovoked attack was jarring. I was scared he would hit me, so I turned around and saw him calmly walking away down York Avenue. I didn't notice if there was a baby in the stroller as it was covered.
I quickly snapped his picture and saw he had spit on an older woman behind me as well. I called 911 and they told me to wait where I was. I felt very vulnerable being out in the open; he could come back at any moment.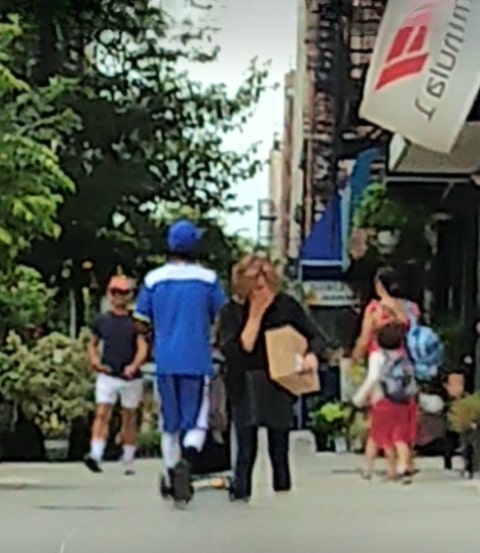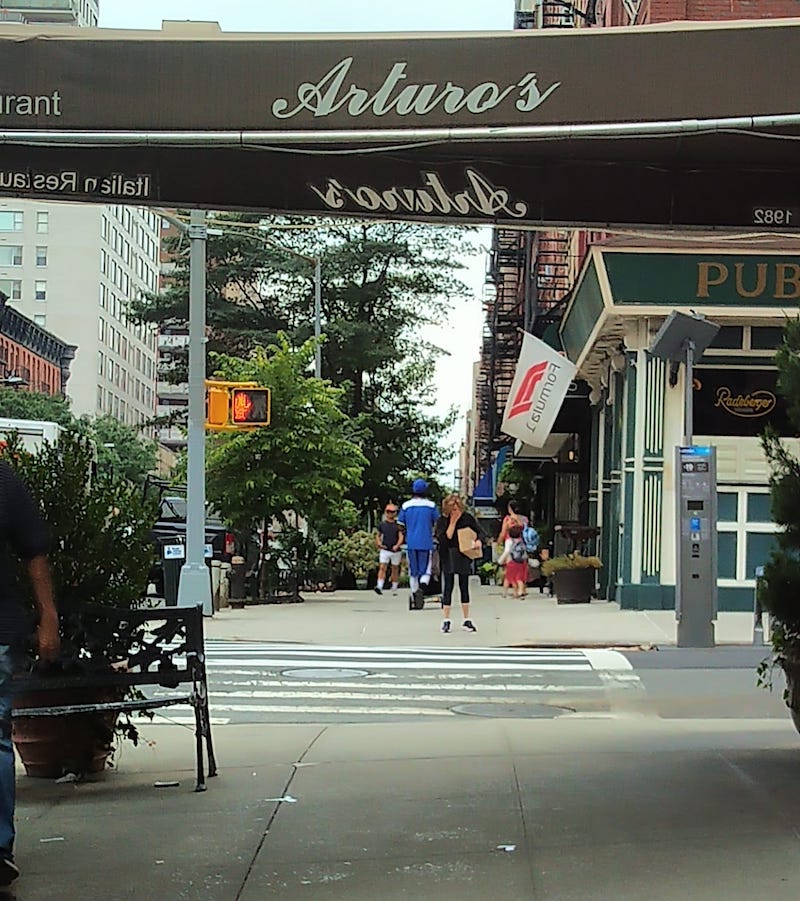 When the two police officers arrived 20 minutes later, I recounted what had happened. I explained that the man had walked away very slowly, and that he could possibly still be on York Avenue. I showed them his pictures and implored them to give me their contact information so I could text or email them the assailant's photos. I also asked if they would drive down York Avenue and be on the lookout for him. With his brightly colored clothing, you'd think he'd be easy to spot if still in the area.
Advertisement
They simply said they'd file a report. Since I wasn't physically harmed, though, this wouldn't be considered an assault. (Spoiler: I ended up having to go to the eye doctor later to be treated for eye irritation.)
I walked home feeling shaken and disgusted. Would I get pink eye? Covid? The eye he spat in was already red and tearing. I pondered if one could Purell their eye.
As if I didn't have enough to worry about daily, now I also had to worry about getting spat on. Still, I counted my blessings. At least it was better than being mugged, stabbed or pushed onto the subway tracks. As days wore on I remained on high alert, scared I'd have another encounter with him.
One recent evening, another Upper East Sider named Ruchita posted on a Facebook group I belong to called Moms of the Upper East Side (MUES).
She wrote that her 64-year-old mother-in-law, Sonia, was attacked by an African American man pushing a stroller outside of her apartment building on 77th and Third Avenue. The pictures she posted, obtained from her building's surveillance camera, were of the same man who attacked me. He was even wearing the same shorts and pushing the same stroller.
"At around 3:30pm on 9/9/23, he assaulted my MIL on 77&3 [sic] by violently shoving her to the ground. This was entirely unprovoked. She scraped her knees badly, ripped her clothes and narrowly avoided sustaining a head injury. Right before that, he spit at a woman, which my mom also witnessed." She continued, "This man was spotted on 77th and Third Avenue, walking towards Lex. He's likely in his mid-30s, African American, with a slim/athletic build and pushing a stroller – happened so fast MIL thinks there may have been a baby in it."
Sign up for the Upper East Side newsletter
Ruchita told me that her sister-in-law Minal filed a police report with her mother for the incident that took place outside 177 East 77th Street between Third and Lexington Avenues. In an interview, she relayed to me, "As per their words, this violent man could only be arrested if my mom identified him, but she was shaken and did not call the cops at the time of the incident."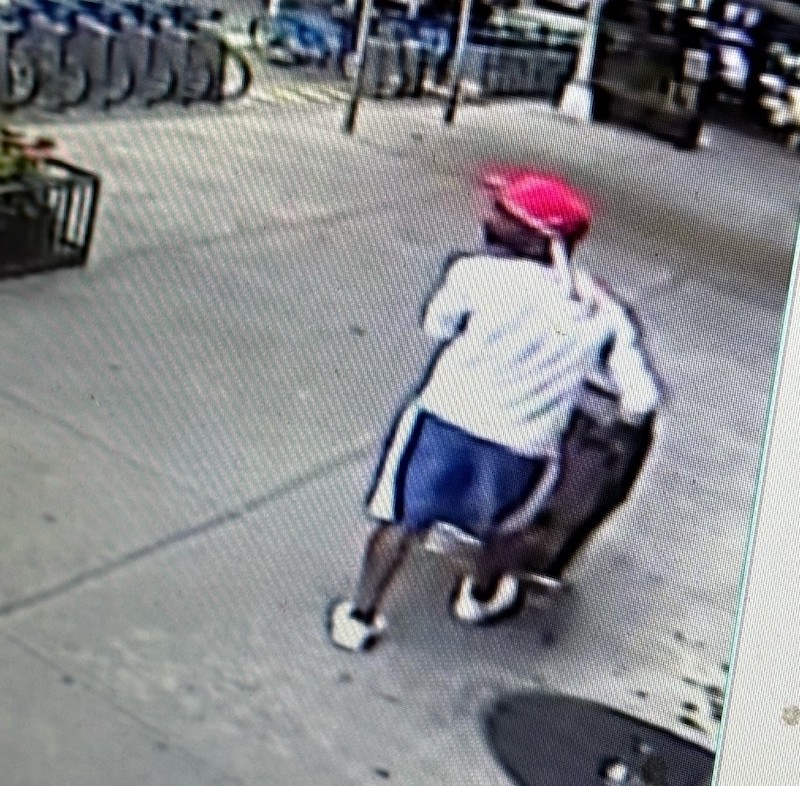 " I just couldn't believe this happened in broad daylight," said Sonia in a statement to East Side Feed. "My initial reaction was to go after him, but there were people all around and I wasn't sure if he had a concealed weapon.  Some concerned citizens stopped and asked if they could help me. As everyone knows, our law is not what it is. They want hard evidence. I think the upper east as a whole/community needs to be united and do something about this man."
Other members of the Facebook group wrote about their own violent experiences with the man, detailing him spitting on them, pushing them and using the stroller – with a child in it! – as a weapon.
Advertisement
A third woman provided East Side Feed with her own post-attack picture of the menace."I was attacked by him about 4-6 weeks ago. Called 911, followed him, guided police to stop this guy, but they did absolutely nothing," Veronica Poloneitchik explained to me.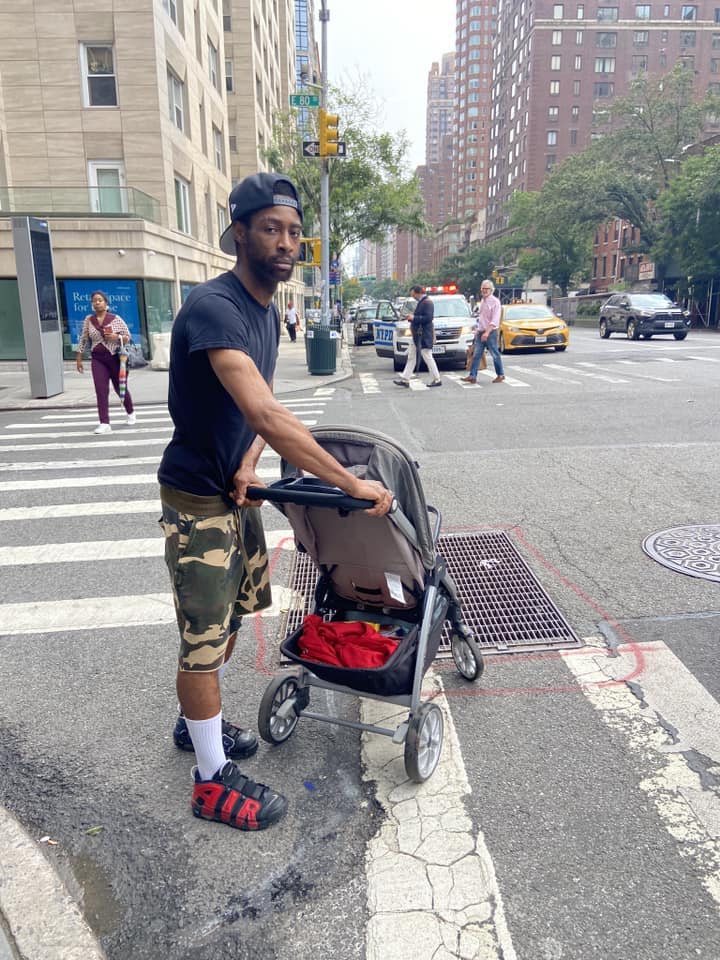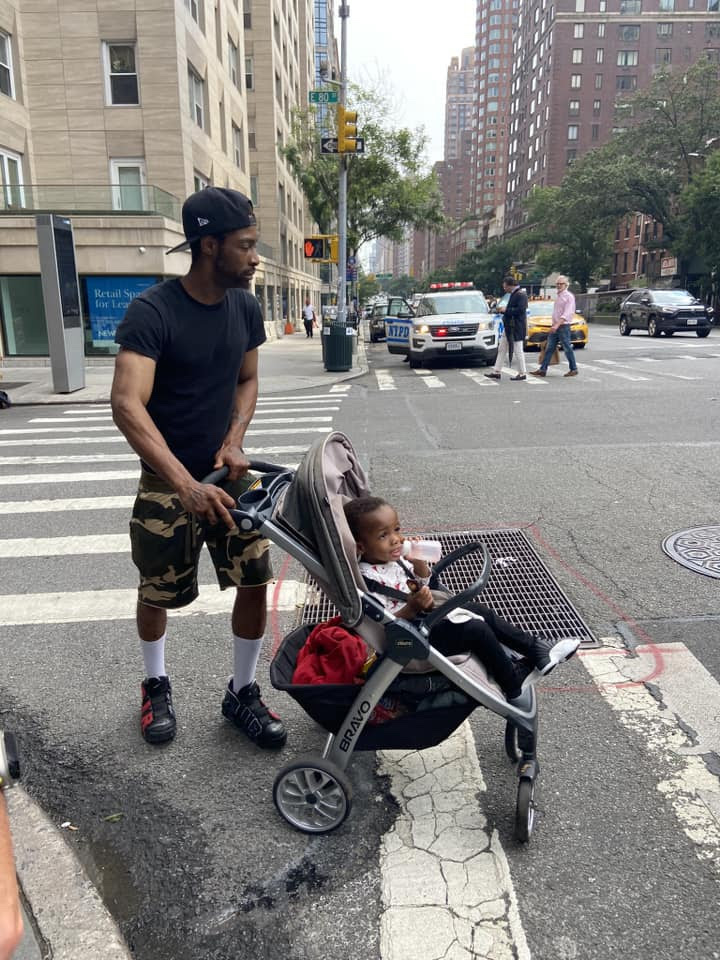 An anonymous Upper East Side mom commented, "I have seen him before too! I actually called the cops to file a report because I thought he was being abusive to the baby. He was wearing blue shorts and a shirt just like in the two photos above! I told the cops that I thought there was video footage of him abusing the child as it was right outside my apt. building four weeks ago."
Multiple others mentioned having seen him standing outside the CVS on 86th and Second Avenue demanding money from passersby.
"I've seen him on 77th and Lex a few months back. He shoved an older man with his family and yelled 'show some respect for a man walking with a baby' – he's clearly insane with a temper and probably provokes on purpose," wrote Danielle Avissar, adding, "I felt terrible for the older man."
Advertisement
All of these anecdotes led me down a rabbit hole and apparently, there's (at least one) long Reddit thread about this man, with posters detailing his menacing attacks and all saying pretty much the same thing: that there have been numerous police reports and nothing has been done.
Ruchita lamented, "How do you make something happen about this? Wait until he puts someone in the hospital?"
Upper East Siders are fearing for themselves, their families and even their pets.
"I was on 82nd and 3rd this afternoon @3 [sic] and he [purposely] ran right into my little dog with the stroller. He was walking very aggressively and didn't stop. Lots of witnesses who watched in disbelief," posted Judy Phillips last night.
Another Upper East Sider who wanted to remain nameless for safety reasons reached out to us to share her own story, which is similar to mine. "On August 31st, at around 11 am I was walking with my dog on 67th and 3rd Avenue. I saw a tall black man pushing a stroller coming from across the street but I didn't pay attention to him. When he was right next to me, I heard him spitting. I saw something passing in front of my face but I didn't think it was actually spit. I was surprised. I thought it might be a flying piece of paper. When he passed I looked on the floor to see if I could find the paper or the spit and gratefully I didn't see anything. I turned around, and I felt all my leg wet. My dog was full of of spit and he got it all on my leg. I went home to take the dog and went to the 19th precinct to file a report. When I went there I found a very helpful police officer that told me that there wasn't anything they could do as the man didn't touch me physically but I could still file a report, which I did. I thought it could be helpful if [this] happens to someone else. Little did I know that he is doing this almost every day!  The man is the same one from the photo provided on the Facebook post."
Another anonymous Upper East Side woman adds, "Last Thursday on 2nd and 73rd while in line at UPS he pushed an older woman (early 70s) hard to the ground for getting too close to his baby. She was in line and not expecting the assault and fell hard. He started coming back so I took her into the UPS store. He was yelling he was going to 'beat the old lady up' but in a more vile way."
Advertisement
UES Redditor "KhushMush" posted their own scary encounter with the menace which happened on Friday, August 18, adding that the police were alerted and did nothing.
"This is a warning to others as I was leaving a doctor's appointment for a fracture in my foot, limping along, and this man (mid 40s, slim build, with a baseball cap) rammed into me really hard for no reason as I was smiling at this baby who must have been around three years old. It must have hurt the baby as well." The Reddit post continues, "Reported it to the cops as he got on the train and the cops said I 'wasn't hurt' because I wasn't limping (I was standing) or bleeding so it didn't matter. All the while the guy was laughing on the train. He went on his way without any kind of investigation. A few days later I had bruising from the incident. This is a warning to folks, but also, what else can I do in this situation? This guy needs to be stopped."
Redditor AE59 shared having witnessed a similar attack. "A man, exactly as you described, pushing a stroller, started randomly verbally assaulting an elderly couple, who were walking with canes, for being in the way on the sidewalk. When the old man said something back, the man with the stroller started spitting and getting more aggressive."
"This is the same guy that kicked the shit out a service animal as he was leaving the subway last week. He needs to be stopped and locked away. Heartless POS. The dog yelped but seemed okay," added UES Redditor Top_Detective_7655.
As of writing, East Side Feed has seen over 40 reports allegedly involving this same man discussed on various groups on social media.
When we shared this article on Instagram, even more encounters were detailed.
View this post on Instagram
The one thing each report seems to have in common is that Upper East Siders who have had encounters with this man are united in feeling frustration with the NYPD's 19th Precinct and local officials' failure to act.
On one Reddit post, someone shared the contact information of a 19th Precinct Community Coordinator, suggesting anyone who's had an encounter with this man send details to Michael.Haigh@nypd.org or 929-270-6298. But overall, it appears Upper East Siders, myself included, are at a loss of what to do to get this dangerous man off the streets, especially as he's committing all these heinous acts with a young child with him.
Advertisement
East Side Feed reached out to the NYPD, Council Members Julie Menin and Keith Powers, and Assembly Member Rebecca Seabright for comment.
NYPD: "The Commanding Officer of the 19th Precinct is aware of the incident and has made officers on patrol aware of the individual described below. The case is currently under investigation by the 19th Precinct Detective Squad. Any additional individuals who feel they have been the victim of a crime are strongly encouraged to report it at the 19th Precinct so that an investigation can commence." (The 19th Precinct is located at 153 East 67th Street and can be reached at 212-452-0600.)
In response to this statement, I asked the NYPD to tell me how many police reports have been filed with the 19th Precinct about this man in the last three months; if the precinct has his name, address and arrest record; and if the NYPD has done anything to address potential child abuse. I'll update this post with their answers if and when they provide them.
Council Member Julie Menin: "The repeated and alarming acts of aggression perpetrated by the same individual mainly against women and children will not be accepted in our community. My office has contacted the NYPD to ask for a thorough and expeditious investigation."
Assembly Member Rebecca A. Seawright: "It is disturbing to learn about the behavior by this individual who is specifially targeting children and families and endangering lives.  We will continue to closely monitor the situation and keep in touch with the 19th Precinct. Anyone who identifies or encounters this individual should immediately call and make a report to the precinct."
Council Member Keith Powers: "I am deeply troubled by reports of a man randomly harassing and assaulting individuals throughout the Upper East Side. I have spoken with leadership at NYPD's 19th Precinct and I am glad to report that a detective has been assigned to this case. My office will continue to monitor the situation and work towards a speedy and appropriate resolution."
Wednesday, September 13: This afternoon, police issued an alert to the media about the suspect, specifically referencing the incident in which he assaulted the 64-year-old woman on East 77th Street. The NYPD also provided a description of the suspect: "a male with a dark complexion, approximately 5'9″ in height, approximately 25-35 years of age, with a slim build, last seen wearing a red hat, white long sleeve shirt and blue pants."
Police are now asking members of the general public to reach out if they know anything.
Anyone with relevant information is asked to call the NYPD's Crime Stoppers Hotline at 1-800-577-TIPS (8477) or for Spanish, 1-888-57-PISTA (74782). The public can also submit their tips by logging onto the CrimeStoppers website or by sending a direct message to @NYPDTips on Twitter. All calls are strictly confidential.