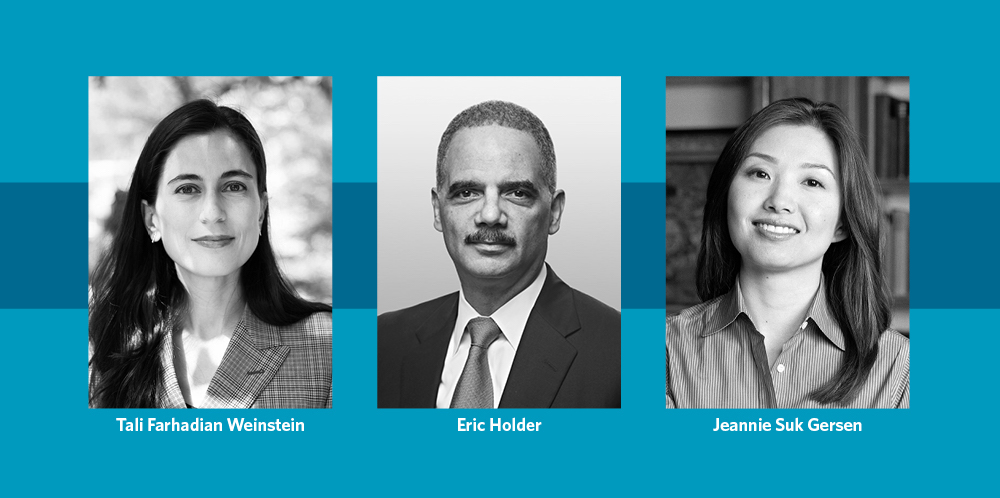 Want to learn more about the Supreme Court cases currently being considered? In the JCC's new series, Issues of the Court: Asking Hard Questions + Seeking Common Ground, hosted by former federal and state prosecutor Tali Farhadian Weinstein, listen in on legal experts in conversation on two major Supreme Court decisions coming this spring.
Issues of the Court will offer constructive conversation and disagreement by giving voice to a range of perspectives on the issues awaiting spring Supreme Court decisions. On April 20, Eric Holder, former United States Attorney General, will discuss Moore v Harper, and its impact on democracy, the courts, and how elections are run. On May 17, Jeannie Suk Gersen, professor at Harvard Law School, will discuss Students for Fair Admissions, Inc. v President and Fellows of Harvard College and its impact on affirmative action in college admissions.
"I'm so looking forward to drawing on the Jewish and American legal traditions of constructive disagreement and inquiry in this series exploring major issues in the Supreme Court," shares Tali Farhadian Weinstein.
In Moore v. Harper, the U.S. Supreme Court has been asked to decide whether the North Carolina Supreme Court has the power to strike down the legislature's illegally gerrymandered congressional map for violating the North Carolina Constitution.
Petitioner Students for Fair Admissions sued Harvard College over its admissions process, alleging that the process violates Title VI of the Civil Rights Act of 1964 by discriminating against Asian American applicants in favor of white applicants.
Join the JCC on Thursday, April 20 and Wednesday, May 17 at 7pm for this two-part exploration of issues facing our country and society. Click here to reserve your tickets.