Thanksgiving is just around the corner and it's time to enjoy your family, favorite meals and desserts. Now, does the fear of packing on some extra fat overshadow the holiday excitement? For many people just like you, it does.
There is a solution!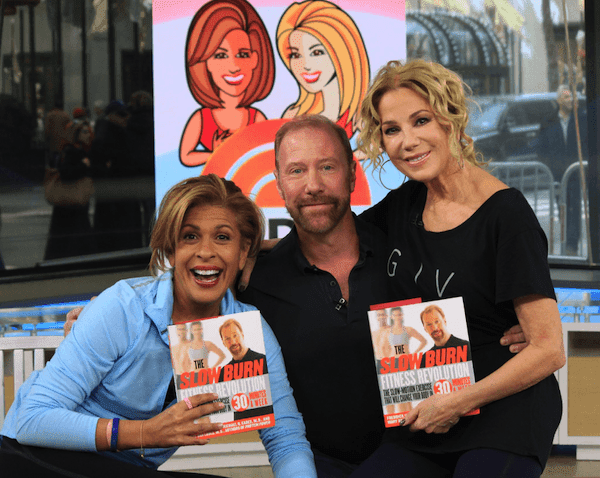 The SlowBurn program consists of two components – their Fast to Feast eating plan and one or two 30-minute strength training sessions per week at SlowBurn Personal Training Studios (169 West 78th Street).
The Fast to Feast eating program consists of a low-carb/low-sugar diet combined with intermittent fasting. Fredrick Hahn, author of The SlowBurn Fitness Revolution and the owner and founder of SlowBurn Personal Training Studios, points out that fasting isn't starving. The two are completely different metabolic conditions and feel very different. When fasting, you don't feel hungry. But when you lower your calories, you do.
Fasting to feast is priming the body for fat burning – and muscle building – so you can enjoy some holiday indulging. SlowBurn Personal Training Studios teaches you how to properly fast so that you can properly feast! Remember, fasting is NOT starving!
To prepare for your Thanksgiving feast, you'll want to avoid eating (anything with calories) for 16-18 hours until the big meal begins. So if your Thanksgiving dinner begins at noon, you'll ideally have your last meal at 6 p.m. the night before (if you're going for the full 18 hours). But, you can have black coffee, tea, or any other beverage that has no calories. By avoiding caloric intake for this stretch of time, your body will be able to turn the Thanksgiving calories into muscle, not fat – especially when you pair this fast with SlowBurn workouts.
SlowBurn Strength Training
One-to-one guided sessions are conducted by certified instructors who watch and help you every step of the way. Each 30-minute session will strengthen your entire body, with body composition tests conducted weekly to make sure you are on the right track.
The method uses very slow, smooth movements when lifting and lowering weights, which helps you build muscle quickly and safely. Just 30 minutes a week (1-2 sessions) of SlowBurn is scientifically proven to improve muscle, strength, flexibility, endurance, bone density and aerobic power, without any of the abrupt, harmful movements that many other workout routines include.
In short, they'll build you up rather than beat you up!
So, how will you build fat-burning muscle in just one or two 30-minute sessions a week – a fraction of the time you probably thought was required? Because lean muscle tissue is built when you're resting, not when you're exercising!
Here's a demo of the workout Hahn gave on NBC's Today.
Hahn's studio, located right across the park, has been a staple of the UWS for 25 years. He welcomes you to the studio and would love to show you what SlowBurn can do for you. And the first session is complimentary!
"I developed SlowBurn in part at the Hospital for Joint Diseases Sports Medicine Center to make patients as strong as possible in the safest and most time-efficient manner possible. It is perfect for all ages, from kids to baby boomers and older folks. The method improves strength, endurance, cardio, flexibility and bone density – and even de-ages you at the genetic level in just 30 minutes a week."
BONUS! If you enjoy activities such as yoga, running or tossing your grandkids in the air, SlowBurn enhances your ability in any physical endeavor. You'll improve your strength, cardiovascular health, flexibility and enjoy relief from neck and lower back pain. In just a few short weeks of SlowBurn, you'll be able to accomplish easily what you once thought of as a challenge or impossible.
Hahn's clients include busy CEOs, popular celebrities, and even lifestyle coaches including Tony Robbins!
Award-winning CBS medical correspondent, the late Dr. Max Gomez says:
"I can't say enough about what Fred has done to help me regain my lost strength, health, fitness, and even a little youth. I have been telling everyone who´ll listen because it´s clearly the most effective and time–efficient way to exercise I have ever tried. You should try it too!"
Hahn and his team of SlowBurn instructors always have your specific goals in mind. The SlowBurn philosophy helps people optimize their health and fitness using a science-based approach to exercise and nutrition.
For more detailed information, check out his book The SlowBurn Fitness Revolution, co-authored by Michael and MaryDan Eades, M.D., New York Times best-selling authors. Hahn is also the author of Strong Kids Healthy Kids.
Each SlowBurn training session is one-on-one with a certified exercise instructor. For more information about the SlowBurn method and for a complimentary initial session, please get in touch with the studio!
NYC Location:
169 West 78th Street
New York, NY 10024
212.579.9320
clientservices@SlowBurnFitness.com
NJ Location:
25 Watchung Plaza
Montclair, NJ 07042
973.233.1013
infomontclair@SlowBurnFitness.com