The Upper East Side will be graced with a day of outdoor fun on the corner of 87th and 1st Avenue on Sunday, May 23 beginning at 11:30am. The event is being hosted by Brother's Guitar Shop and will feature performances by The Constituency, live street art by NYC Legend, and even a flea market.

The band will also be performing on an actual stage that's being built (which is being dubbed "The Corner Stage.")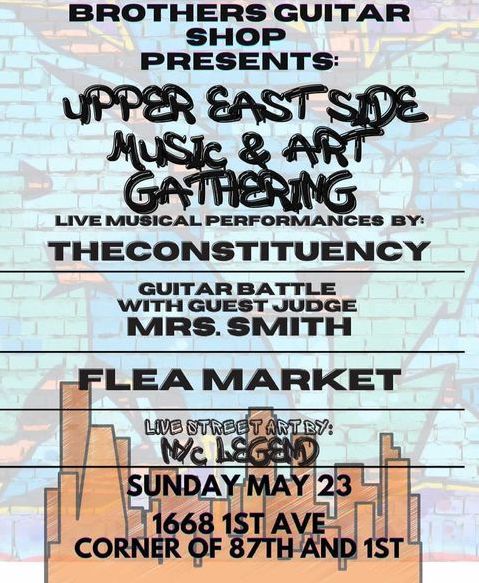 Excited for the upcoming performance, The Constituency wrote on its IG page that "After a year and change of improvising performances in some radical, albeit unconventional city spaces, super excited to be taking music BACK to the streets of NYC!!!"
One of those unconventional spaces was on one of the band member's rooftops on East 77th Street, where they performed during the early months of the pandemic.
Here's The Constituency jamming in Central Park in May 2021:
View this post on Instagram
The May 23 event will also include a live guitar battle with guest judge @smithcatmrs.
Those who play and want to enter can do so by following @brosguitars on Instagram and sharing a one minute solo using hashtag #BrothersGuitarBattle (or emailing it to brosguitarshop@gmail.com). Five finalists will be selected prior to May 23.

image featured on social media via Google Maps