After a year off because of the pandemic, Open House New York will return to the five boroughs, offering people near and far an opportunity to explore some of the city's most iconic locations and under the radar gems while engaging in issues involving city planning, design, preservation and infrastructure.

Founded in 2001 by architect Scott Lauer, Open House New York's vision was to celebrate New York during a critical time in its history, the time following the 9/11 when a lot of the city was closing itself off through heightened security and increased safety procedures. OHNY came into the fold advocating for openness and access.
Come 2003, the first Open House Weekend was held, and with the help of 300 volunteers, the event featured 84 different sites for people to explore. The event has continued to grow, year over year. According to its website, "OHNY Weekend now includes more than 275 participating sites and [offers] 1,300 tours with an estimated 85,000 visitors and more than 1,400 registered volunteers."
This year, OHNY will feature four sites on the Upper East Side.
1014 Fifth Avenue, between 82nd and 83rd Streets
This beautiful Beaux-Arts style townhouse is one of the last of its kind along Museum Mile. Built in 1907, the house used to serve as the home to an ambassador, then became the German cultural center before evolving to Goethe House New York. "Exploring the intersection of architecture, community, and culture, the exhibition offers a glimpse of a new cultural space in the making." More info here.
Bohemian National Hall, 321 East 73rd Street
Designed by William C. Frohne and built in 1896, it is one of the few social halls built in the nineteenth century that are still standing today. For over 100 years the Bohemian National Hall has been an essential center for Czech and Slovak culture in NYC. "Since its beginning, it has served as a focal point for its community, offering ethnic food, Czech language and history classes as well as space for its large community to meet and hold various events." More info here.
Historic Central Park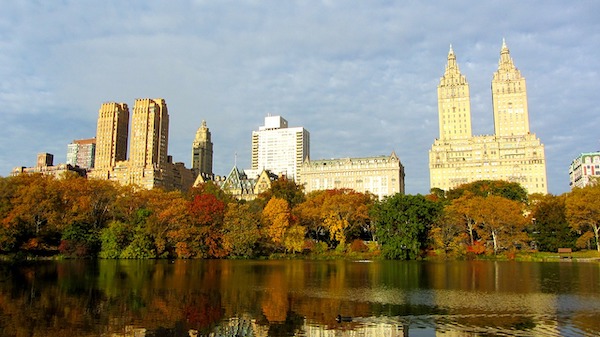 The most visited site in NYC. Take a tour with licensed NYC tour guide Bob Gelber to learn about the history of Central Park, the architects who designed it and how it's still maintained today. The exact location of the tour will be revealed with your reservation. More info here.
New York Society Library, 53 East 79th Street
Founded in 1754, it is the city's oldest library that offers a myriad of tools and resources to readers and writers. Now a city landmark, the building originally served as an Italianate townhouse around 1918. "Many of the building's spaces retain the architectural charm of the original townhouse and display our eclectic art holdings as well as our 300,000-volume print book collection." More info here.
Some Open House New York events are ticketed (free) and served on a first come, first served basis. Tickets are now on sale and can be picked up here. OHNY also offers 'tips' to scoring tickets which you can find out more about here.