The rapidly growing Blank Street Coffee recently put its flag down on the Upper East Side, opening a location at 985 Lexington Avenue, between 71st and 72nd Streets. Now, just about a month later, they've opened a second spot – this one at 1225 Madison Ave at 89th Street.

Photos by @uescoffee: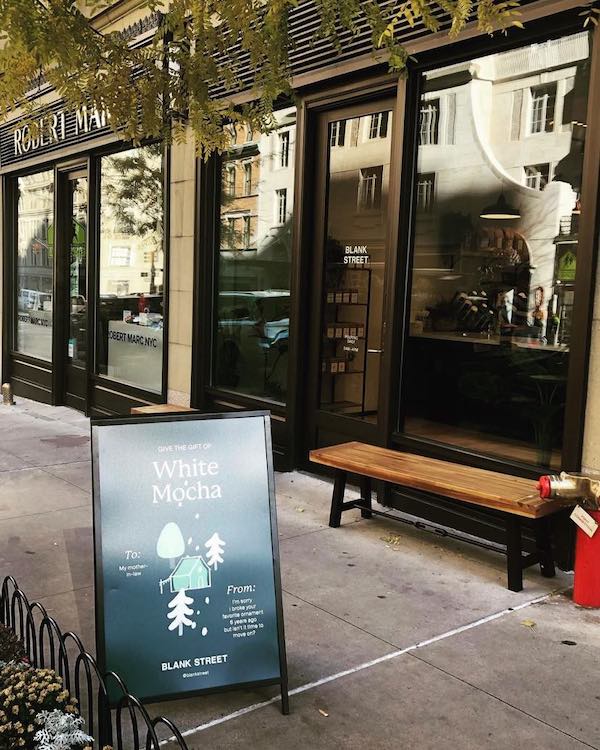 Blank Street launched in July 2020, and has since grown to over 15 locations (including a spot across the park on 79th and Broadway which opened in late October).
Part of this growth comes from leasing relatively low-cost "micro-shops" as well as utilizing mobile carts.
Forbes reported in October that Blank Street had raised $32 million through multiple investment rounds, and aims to have 100 locations operating by the end of 2022. Co-founders Vinay Menda and Issam Freiha told the publication that their company's growth can be attributed to "high quality products, ultra convenience, and fair prices."
Advertisement



Blank Street's offerings come from NYC based vendors including coffee from Parlor Coffee, sweets from King Street Baking Company, croissants from Pain D'Avignon, and breakfast tacos from King David Tacos.
The growing chain is also eco-friendly.
"As part of our commitment to create a better coffee experience for you and our planet, we are committing to funding at least 1KG of C02E for every item we sell, which is the equivalent amount of carbon offset per the average seedling tree in the rainforest in a single year," Blank Street's website details. "In other words, for every item we sell, we are offsetting the same amount of carbon as a newly planted tree in a single year."
The new location at 1225 Madison Ave is open daily from 8am-4pm. To learn more, visit www.blankstreet.com.