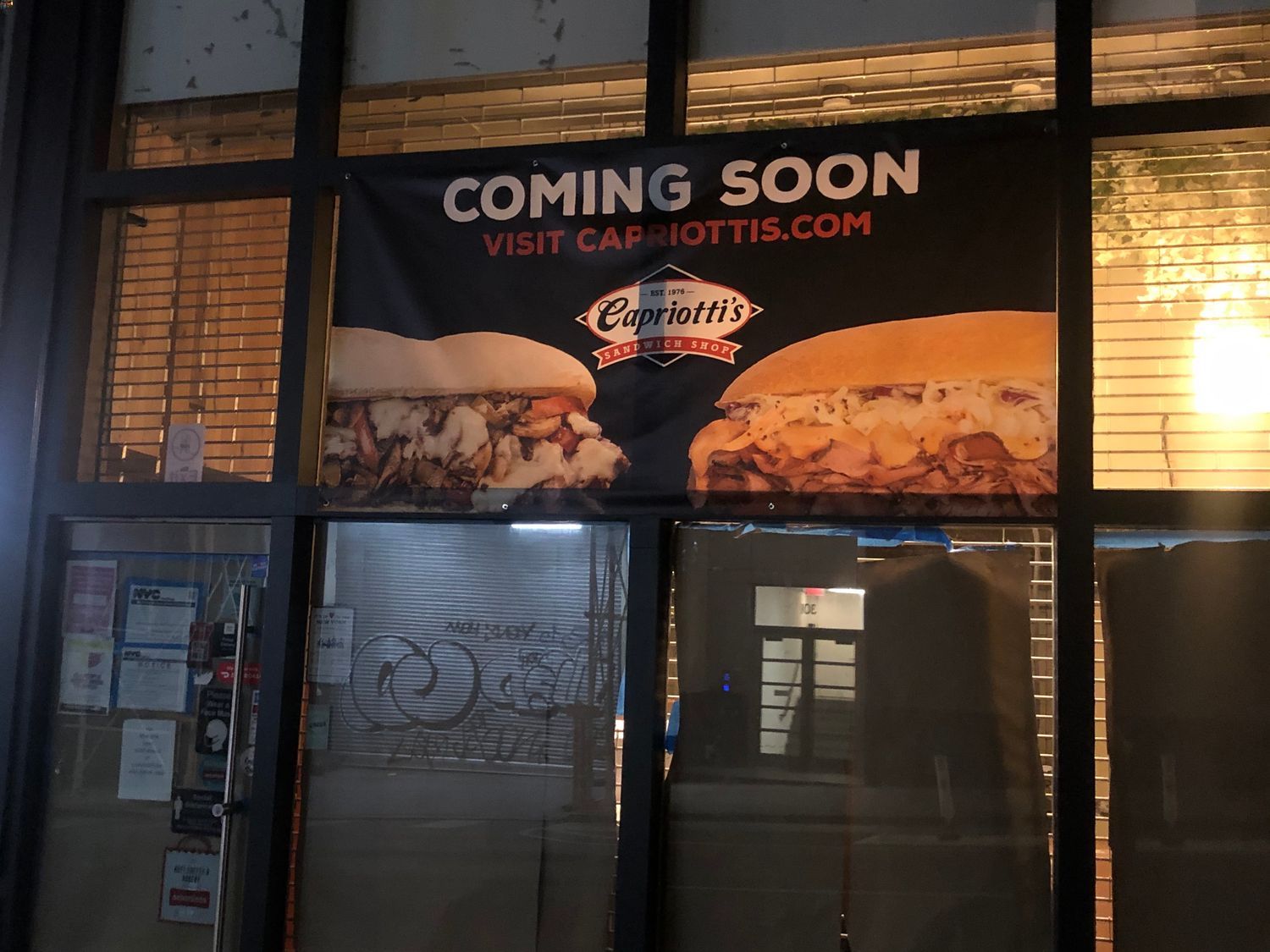 Capriotti's, the Nevada-based sandwich shop with 112 locations across the country, is opening its second NYC location at East 60th Street and First Avenue. The other spot opened last year — also on the Upper East Side — at 1711 Second Ave. between East 88th and 89th streets. In November 2009, AOL.com named the Bobbie signature sandwich by Capriotti's the greatest sandwich in America. It comes with fresh-roasted pulled turkey, cranberry sauce, stuffing and mayo.

Advertisement



Capriotti's heyday might be behind them, but they're not giving up. In 2011, Capriotti's starred on Food Network's Unwrapped with Mark Summers. The three-minute segment gave viewers a glimpse at how they prepare their signature Bobbie sandwich and how it got its name. Turns out the founder's aunt, Bobbie, would make sandwiches with Thanksgiving leftovers when the family got together. This sandwich may have been trendy in the 1970s, but it's a somewhat common one you can find around town now — and gravy would be a better condiment for this one than mayo — more representative of Thanksgiving.
In November 2013, when Capriotti's expanded its presence to the East Coast, President Joe Biden (who was then vice president under Barack Obama) was the first customer served at the grand opening of Capriotti's in Washington, D.C. This was an especially good year for the sandwich maker. "In 2013, Capriotti's Sandwich Shop brought in over $58 million in revenue, and the company has experienced 48% growth in the last three years," reported Business Insider.
Capriotti's also made it on to Entrepreneur magazine's top 500 franchise list from 2010 through 2014, with Ashley Morris, the CEO, touting that they planned to open 500 sandwich shops in the United States by 2015. But, they never came close and the accolades have pretty much dried up since.
Capriotti's offers sandwiches in four sizes, starting with 5 inches (the Rookie), then 8, 10 and 18 inches, which they call the Notorious. The menu offers a vast lineup of cheesesteak options, including a classic cheesesteak, which they use American cheese on. They also offer a chicken chipotle crunch and a BBQ chicken cheesesteak, amongst some others.
Also on the menu is American wagyu beef options, as well as a list classic Capriotti's sandwiches like the Italian — which they do with Genoa salami, capocolla, prosciuttini, onions, provolone cheese and topped with lettuce and tomatoes — and their homemade meatball or tuna sandwiches. They now regard the Capastrami as the best seller. It comes with hot pastrami, melted Swiss, coleslaw and Russian dressing.
Soups and salads, as well as catering options, are also available.
We reached out to Capriotti's to see when they'll be opening. We'll keep you posted when we learn more.