The line was out the door when I arrived to Brooklyn Dumpling Shop for its grand opening on June 19, less than a month after we first announced its expansion to the UES. Located at 453 East 78th Street between York and First avenues, the dumpling automat touts an "Easy ordering: zero contact, zero human interaction" experience.
Advertisement
Simply order online or at an in-store kiosk, then scan your barcode at the designated locker, and poof, there's your food.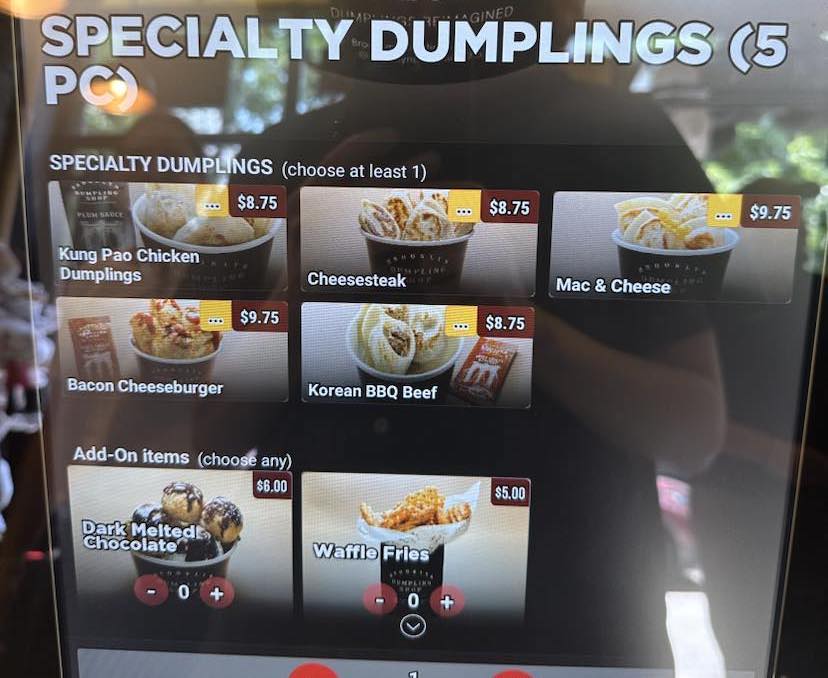 With a little bit of a first-day learning curve for eager new customers figuring out what to order and what to do, it didn't take long for that line to form. The dimensions of the space aren't very deep either. With seating for 9 inside (8 outside), it only takes about a half dozen people for the outside line to build up. It'll be interesting to see if lines outside will attract passersby looking to see what the excitement is about, as those who came on opening day were fired up to test out the technology.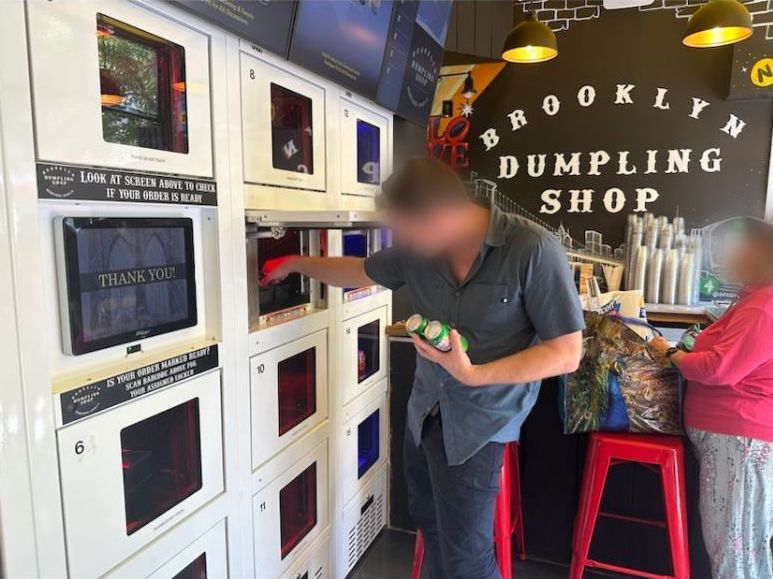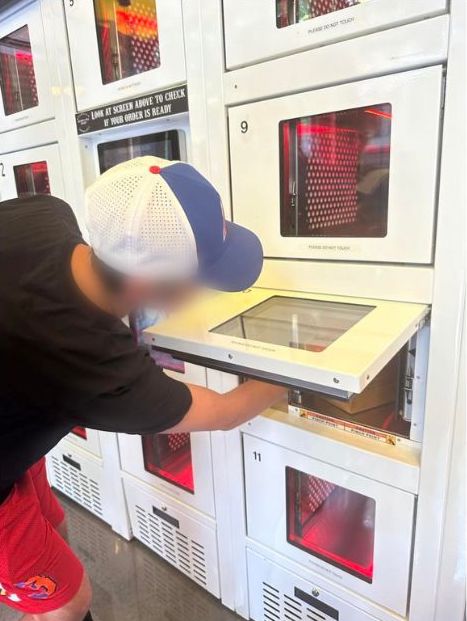 A grand opening appearance was made by Stratis Morfogen, the man behind both Brooklyn Dumpling House and Brooklyn Chop House in downtown Manhattan (right by the Brooklyn Bridge), where he first began serving multicultural dumplings.
Advertisement
Morfogen mentioned that this is a franchised location which he won't actually run, but he wanted to stop by to check things out. He lives downtown but used to be an Upper East Sider, and said this location is a great demographic for the brand, with lots of youthful action in the area.
More Upper East Side Openings, Here
When I asked how Brooklyn Dumpling Shop got its name (since there's never been a Brooklyn Dumpling Shop in Brooklyn), Morfogen told me that like his Brooklyn Chop House, it's an ode to the Irish chop houses that originated in Brooklyn during the 19th century.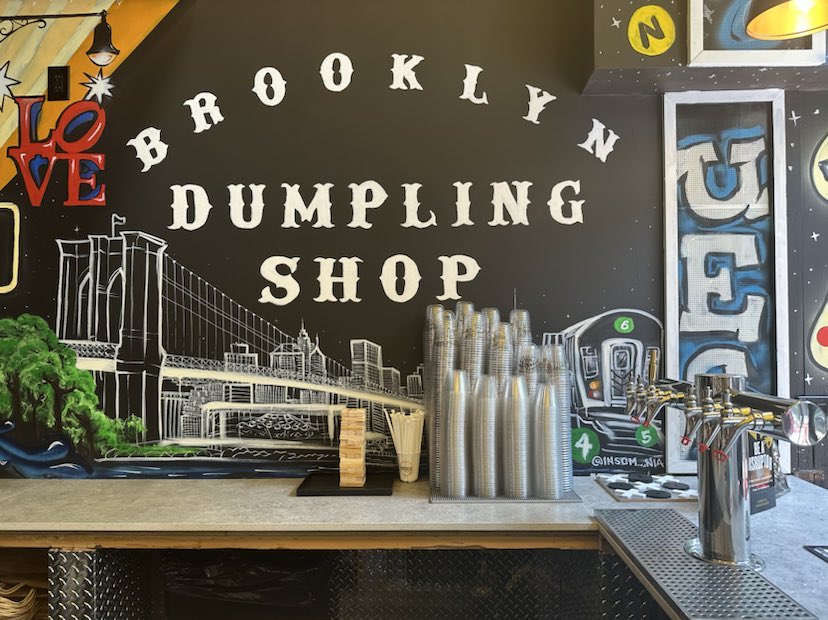 Brooklyn Dumpling Shop offers traditional dumplings like vegetable potstickers, chicken teriyaki and crispy pork; you can have them seared or crispy with five dumplings per order.
Then there's the specialty side with offerings including lamb gyro, chicken parmesan, Reuben and bacon cheeseburger.
Dumplings in broth come in chicken & shrimp, pork soup and fire pork soup if you want it spicy.
They have all the bases covered here with vegan and gluten-free selections; Thai peanut chicken and the Impossible cheeseburger sound delightful.
Sides include waffle fries, Lo mein, white rice and Edamame with sea salt. They also automated 'chop chop bowls' where you can pair a protein with a base of white rice, mixed greens or Lo mein.
Dumplings for dessert? Take your pick from peanut butter and jelly, dark melted chocolate or apple cinnamon.
Advertisement
The Dumpling Shop is currently waiting for its liquor license so they can begin to serve local beers and a variety of wines, too.
During my visit, the staff recommended I try the chicken parmesan dumplings since they're a top seller. I also got an order of waffle fries.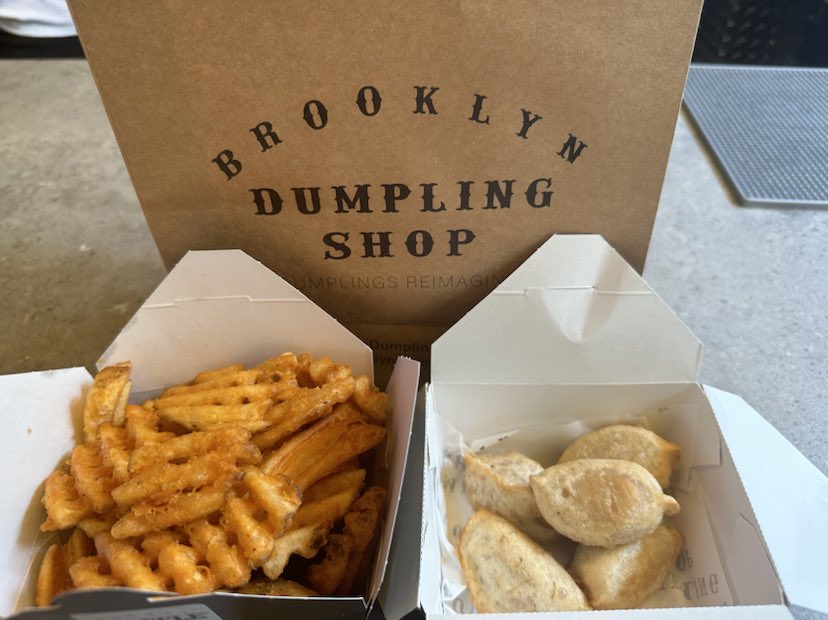 Sadly, the dumplings reminded me of Totino's pizza rolls (be careful with that first bite!) and the waffle fries were a whole lot of fried oily crunch without much savory potato. I love waffle fries but this order had me looking for the ketchup right out of the gate. On the contrary, this Instagram user says "Everything is delish," while this one says the cheesesteak dumplings were her favorite.
Next time I'll likely try a mix and match of old school and new school with traditional pork and specialty bacon cheeseburger dumplings. Perhaps I'll add in some peanut butter and jelly dumplings if I get a late-night snack attack.
While several Brooklyn Dumpling Shops are open 24/7, we're told the Upper East Side location's hours will be Monday-Sunday from 11 a.m. – 10 p.m. Learn more at brooklyndumplingshop.com.