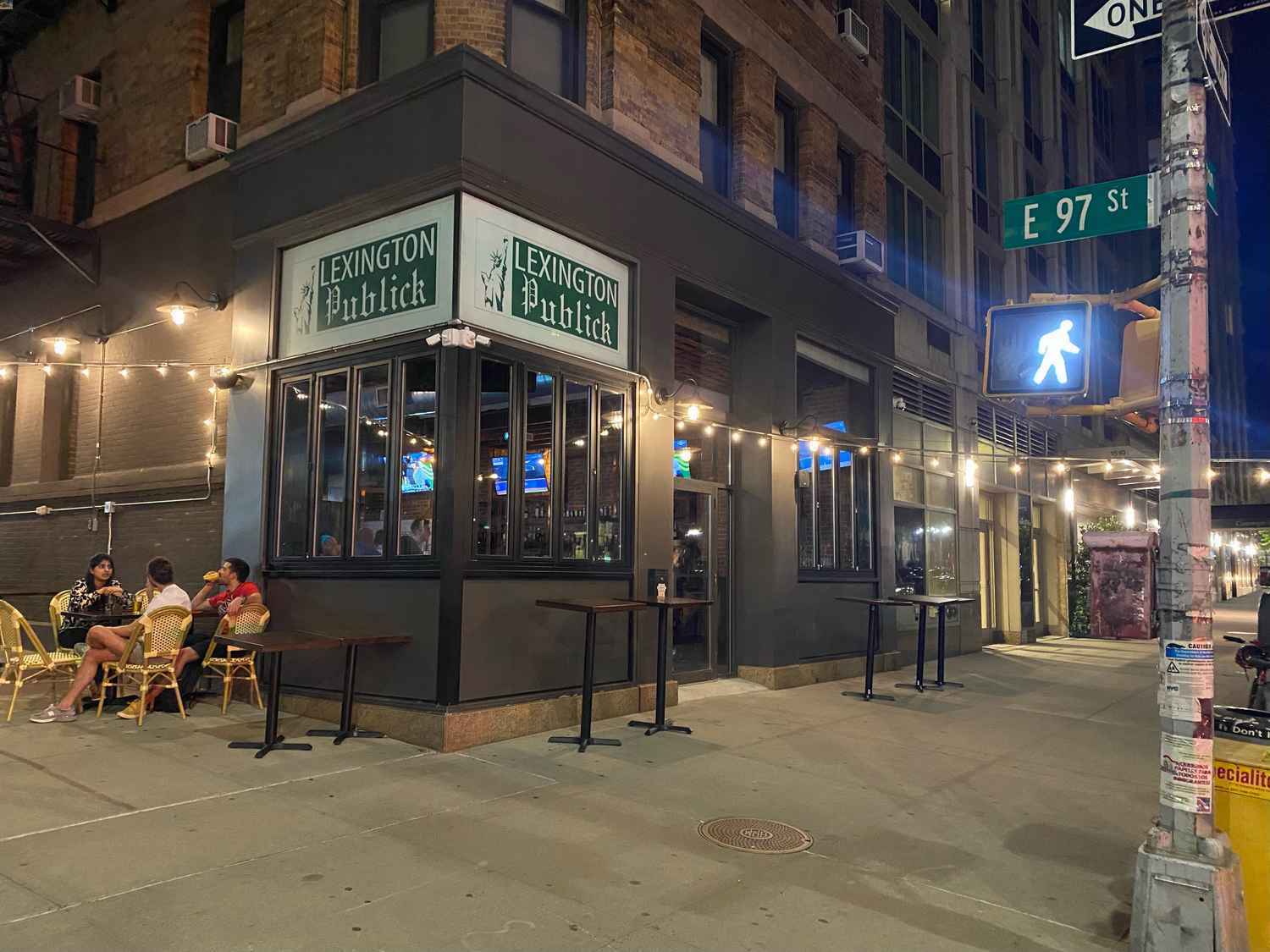 Walking into a new bar cold — knowing nothing about it — can bring on a bit of anxiety. When I cracked the door open at Lexington Publick at 1504 Lexington Ave on the corner of 97th Street, my butterflies segued to eagle's wings as "Maggie May" by Rod Stewart played on the box. Fatigued wooden flooring, brick walls and candles on tables warmed my spirits as I pulled up a seat at the bar.

The quality tunes kept coming as I perused the drink menu. Tom Petty, Blue Oyster Cult, Paul Simon, and then some good ole Jimmy Buffett doing "Banana Wind" — which made me laugh because I was wasting away again in Margaritaville, sipping on Lexington Publick's The Smokin' Daisy, a spicy frozen margarita with Del Maguey Vida Mezcal and fresh jalapeño.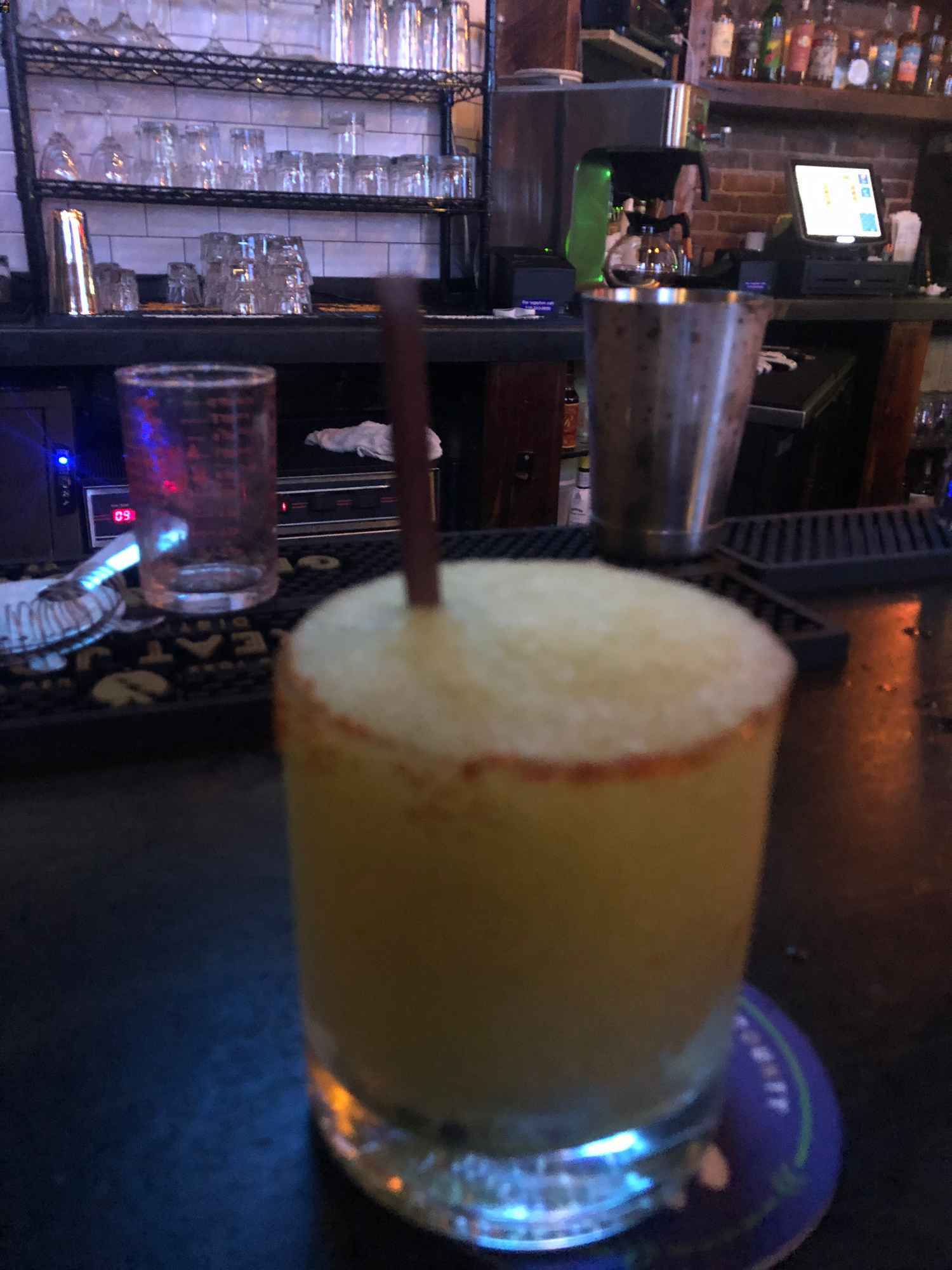 The current cocktail menu has a total of six different options. I also tried The Concrete Jungle Bird, with Owney's Original NYC Rum, Don Q Coconut Rum, Campari, pineapple and lime.
My compliments to Kevin, the bartender, who was just as sharp making cocktails as he was assembling the evening's playlist. He can talk tunes, too, and the volume was kept at just the right level: loud enough to jam, but not so loud that you have to lean into someone for them to hear you.
Advertisement



Lexington Publick also offers wines and bubbles by the glass or bottle. There's Vineyard Creek Pumphouse Rosé and white wine options, followed by Pumphouse Sparkling Blanc on tap. Then Ombra Prosecco, Josh Cellars Cabernet Sauvignon and Gérard Bertrand Côte des Roses Sauvignon Blanc.
There's a happy hour Monday to Friday from 4 to 7 p.m. with $6 Lexington Lager, $5 bottled beer, $7 wines and $2 off all regular priced well cocktails and spirits.
READ MORE: Inside Hendrickson's, a New Bar on the UES
Once I'd been cozied up at the bar for over an hour, I tried my first Eclectic Lemonberry Sour Ale (by Fifth Hammer Brewing) and Black Duck Porter (by Greenport Harbor Brewing). That's when Jacob, the co-owner of Lexington Publick, came in. They'd just opened on Tuesday and he was walking around thanking everyone for coming in, shaking hands.
Jacob also told me they expect to have a food menu in the next three to six weeks. They're looking to focus in on gourmet hotdogs, similar in nature to the now-legendary Crif Dogs from Brooklyn.
As the clock passed midnight, a big crowd walked in together and piled up in front of the bar. The fact that the volume and classic rock playlist stayed consistent further enforced that Lexington Publick is a place I will return to.
Temporary hours are 4pm-2am daily. Learn more at lexingtonpublicknyc.com.