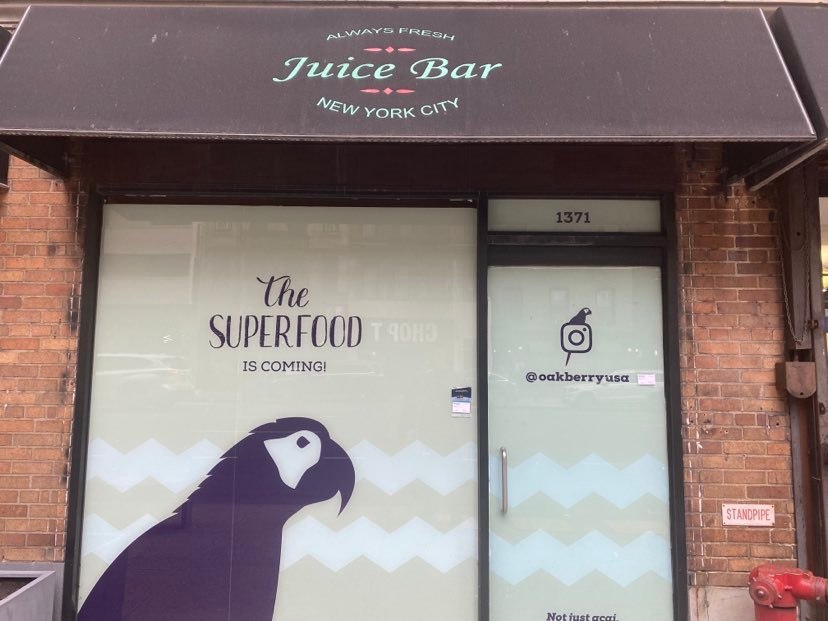 Oakberry, a Brazilian-born smoothie and açai bowl brand, will be opening at 1371 Third Avenue (between 78th and 79th streets), the space previously occupied by Always Fresh Juice Bar (h/t @uesthings).

Advertisement



With over 500 locations in nearly 40 countries around the world, the Upper East Side location will be the first in the neighborhood and the third in New York City. The other two NYC outposts are in Greenwich Village and NoMad.
For readers unfamiliar with açai, it's a small reddish-purple berry from the Euterpe palm, a tree native to the Amazon rainforest. Some studies have demonstrated that açai berry pulp is a rich source of antioxidants, perhaps more so than cranberries, blackberries, raspberries, strawberries and blueberries. Açai berry pulp also contains nutrients like magnesium, potassium and phosphorus. Açai berries have been promoted in the United States for weight loss and anti-aging, though there does not appear to be any scientific evidence for these claims. Açai berries are usually safe when eaten in moderate amounts but should be avoided by people with pollen allergies or berry sensitivities.
READ MORE: Cult-Favorite Korean Supermarket H Mart Finds a Home on the UES
OakBerry, according to its website, was founded to meet the demand for healthy fast food and to address consumers' pain point of not having enough time to east healthy. OakBerry's açai is 100% natural, and the smoothie and bowl recipes contain no food colorings, artificial preservatives, trans fats, or cholesterol. The company's açai formula includes organic açai pulp, water, organic brown sugar, organic blue agave syrup, sodium alginate stabilizer, guarana essence, and citric acid acidulant.
Bowls and smoothies come in 12-, 16-, and 24-ounce portions (which contain 5, 6, and 7 toppings respectively), as well as peanut butter bites, protein bars, La Colombe coffee, tea, and coconut water. At the Greenwich Village location, 12-ounce bowls are $13.50 and 12-ounce smoothies are $11.
Advertisement
OakBerry partners with major sports brands and has shown a presence at events like the 2019 US Open, the 2020 Superbowl, and the 2020 Australian Open.
A press representative from OakBerry did not immediately respond to our inquiry about the Upper East Side opening.