Inside Lori Gaeta's Sutton Hill apartment on the far East Side of Midtown Manhattan is a guest room loaded with socks, soap, underwear, clothes and granola bars. No, she's not planning a road trip; this is where she assembles her 'survival kits' which she gives out to homeless people in the city.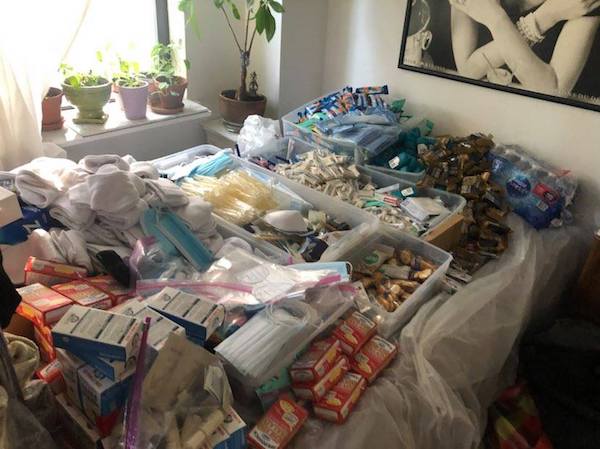 "It always feels good when you can be a blessing to someone in need. It brings meaning to life when you can lift someone's spirit," Gaeta told ESF after we joined her for a 'ride along' on Wednesday, September 15.
"Need any shorts?" Lori asked a man named Pastor. He took the pair and said thank you, glowing in gratefulness. "How about a survival bag?" Lori asked a woman named Judy, as she complimented her style. Judy accepted and they spoke for a little while. The trend continued over and over as Gaeta pushed her trusty shopping cart through the crowd that lined up at St. Bart's for a warm meal at 325 Park Avenue between 2nd and 3rd Ave.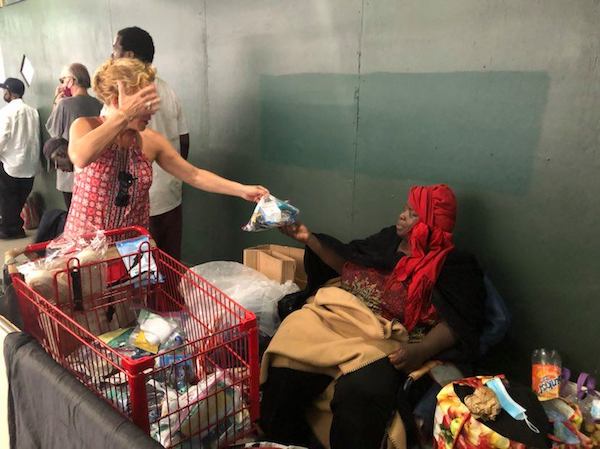 Lori distributed close to 100 survival kits that day. The small see through pouches were stocked with essential items including baby wipes, tooth brush and tooth paste, floss, a comb, water, lip balm, deodorant, nail clippers, shampoo, socks, water, peanuts and cans of tuna, bacitracin packets with Band-Aids, shaving cream with razors and body lotion.
"What's your shoe size?" was a common question Lori asked, as she looked to match the homeless with a fresh pair she kept underneath the basket of her cart. A homeless man named Floyd was grateful to receive new boots. Not everyone was looking for help that day but the vast majority were happy Gaeta was there for them.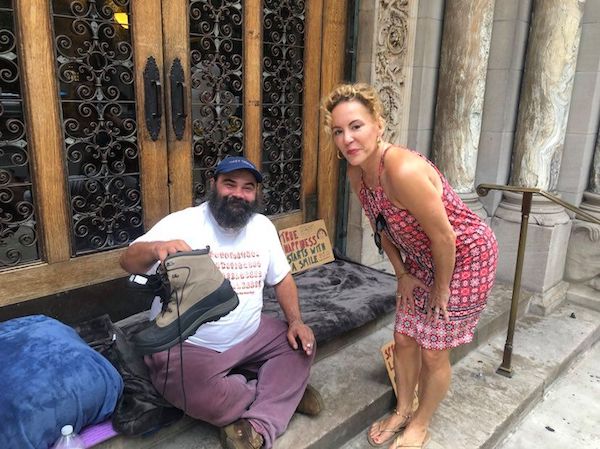 Gaeta's been answering the call for the homeless on the street since 2020. After she noticed a man named William in a broken-down wheel chair on East 61st Street, she went on NextDoor, the hyperlocal social network for neighborhoods, asking for help. That's when a someone she'd never met offered to buy William a new chair, spending over $200 to help.
Lori's leveraged NextDoor to much success and has built a following of supporters who want to help with her outreach. She helped a man named Pavis reconnect with his family in Germany, organized a GoFundMe for a struggling actress to pay her rent, and just recently was instrumental in the search for a missing woman in Central Park. Gaeta contacted her friend Bernard Solco to donate his services to create the HelpFindChristie.com website. Once Christie was found, Lori visited her in the hospital.
When asked about what the future holds, Gaeta told ESF she was interested in hospice care but noted there's still so much work to do on the front lines, in the street. If you'd like to contact Lori to help in the cause you can find her here.
Lori Gaeta is a former Creative Director with over 30 years experience working in media. Now retired, she previously worked for brands including Ogilvy and McCann, amongst others, and apparently earned the nickname 'Conceptual Machine' for her American Express, Pfizer, BMW and Merck campaigns, to name a few. Gaeta told ESF she also designed all of Andy Warhol's promotional materials for Interview Magazine as well as 'conceptualizing' for Warhol's ad campaigns.