In the early 1800s, John Jacob Astor sought refuge from the flurry of activity, summer heat and disease that was centered around the southern tip of Manhattan. The areas of the burgeoning city that lent themselves to such a reprieve are today's Upper East and Upper West Sides. Astor opted for the Upper East Side and built his summer estate on thirteen acres that were formerly part of William Waldron's farm. Located along East End Avenue between 86th and 87th Streets, Astor's former haven was located within the present-day Henderson Place Historic District.
Astor's mansion was called Hell Gate, or Hellegat in the original Dutch, and loosely translated to mean "bright strait" or "clear opening." It was located in Yorkville, a neighborhood founded in the 1790s by German immigrants. It sat across from the other half of Waldron's farm, the East 88th Street home of Archibald Gracie. Gracie's property is now known as Gracie Mansion and serves as the official residence of New York City's mayors.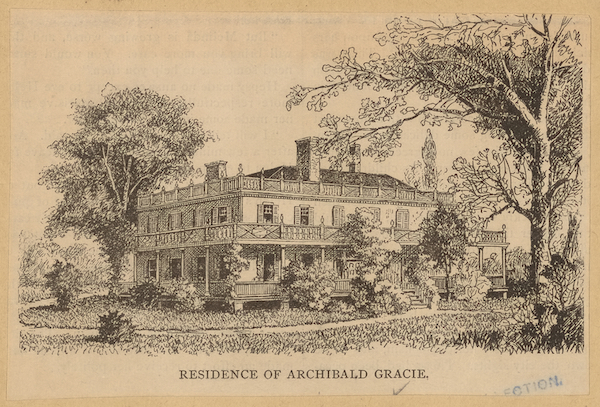 Gracie sold the mansion to merchant Joseph Foulke in 1823 and Astor transferred his Upper East Side estate to wealthy fur trader John C. Henderson in the 1850s. Henderson, who purchased the land as an investment, enlisted architects Hugh Lamb and Charles Alonzo Rich to build "houses at Eighty-sixth street and Avenue B for persons of moderate means."
Henderson's project broke ground in 1880 and was completed in 1882. The final product produced 32 burnt red brick, three-story Queen Anne style homes that measured 18 feet wide and 46 feet deep. Approximately 2,500 square feet each, these five bedroom homes were occupied by working class New Yorkers with five or six residents per address. In 1940, the number was reduced to 24 after eight were torn down. However, the real number of remaining homes is believed to be 21 because some have been combined to form larger single residences. Along with the Upper West Side's legendary Dakota, Henderson Place gained landmark status in 1969. "The Henderson Place area is the city's 11th historic district," an NY Times article of that year wrote.
Among its notable former residents are the Duke and Duchess of Richelieu, "Barnard's First Wonder Woman" Millicent McIntosh, and the namesakes of Broadway's Lunt-Fontanne theater, British actress Lynn Fontanne and her Magnificent Yankee husband Alfred Lunt. Henderson Place's 558 East 87th Street address is also the headquarters of Louise Fitzhugh's Harriet the Spy.