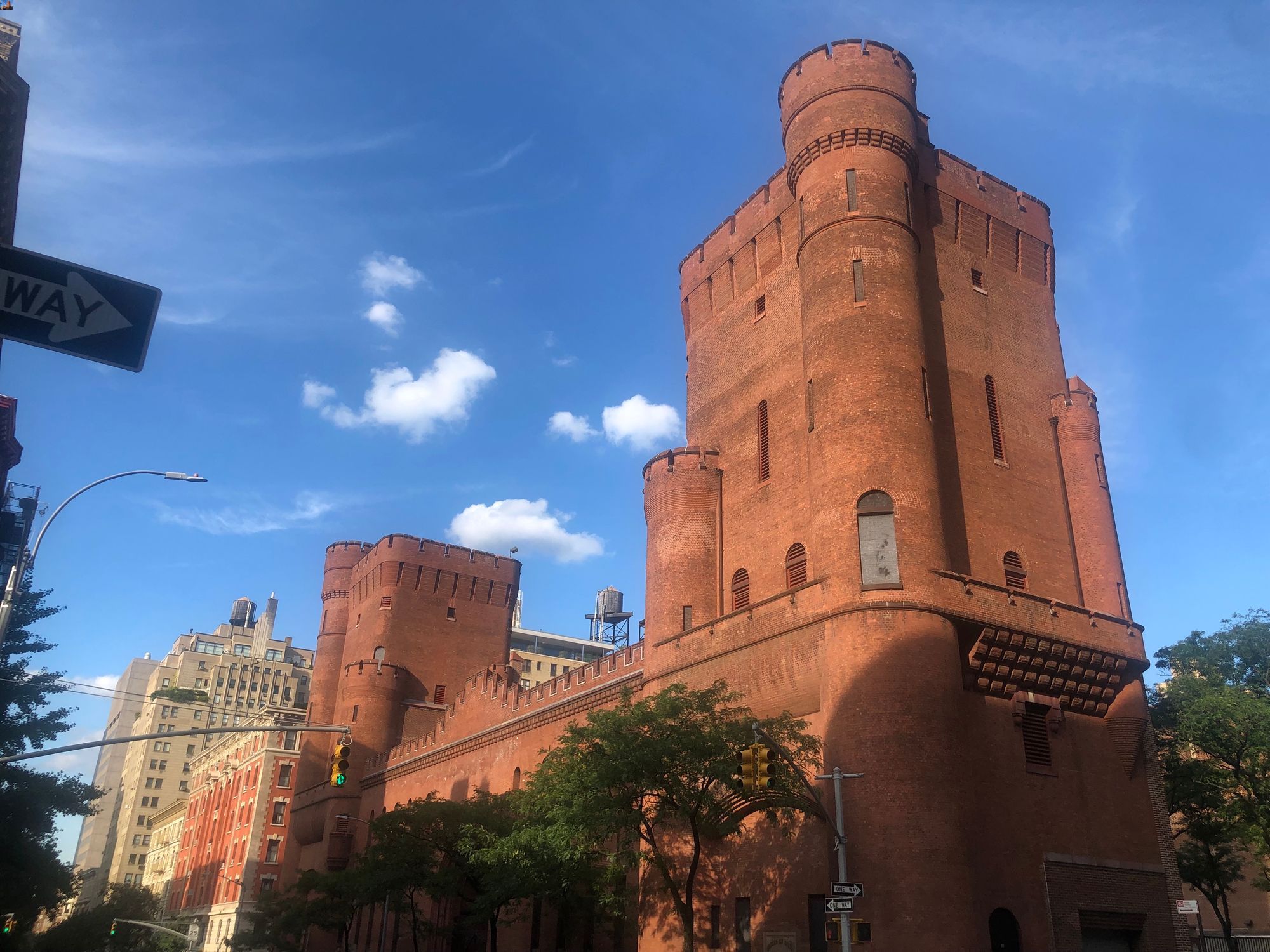 Two elite academic institutions — Hunter College High School and Elementary School at 71 East 94th Street between Madison and Park avenues — are housed in what appears to be a medieval castle. The structure was originally built in 1895 for the "New York Hussars" — a wealthy equestrian social club for gentlemen — after the group evolved into a unit of the New York State National Guard in 1889, known as Squadron A. Under the command of West Point-trained Major Charles F. Roe, who served in the Civil War, elite socialites were thrust into serious situations, beginning in August 1892 when they rode to Buffalo to quell the riots stemming from a railroad worker strike.

Advertisement



"The squadron was recruited from the best young men of the city and became a body of fearless, hard-riding, well-disciplined cavalry, capable of rendering splendid service whenever called upon," wrote Edward Larocque Tinker in the January 14, 1940, issue of The New York Times. Squadron A demonstrated early success against domestic unrest, which included the Brooklyn Trolley strike riot in 1895 and the rioting of the laborers on the old Croton Dam in 1900.
Squadron A served its country in Puerto Rico during the Spanish-American war before the National Guard was called into federal service for the first time ever in June 1916. The Guard sent Squadron A to the Mexican border after Pancho Villa, a Mexican Revolution general, and his "rebel forces attacked a train in Santa Isabel, in Mexico's northern Chihuahua State, killing 18 Americans," wrote Linda C. Robinson in "Squadron A Service on the Mexican Border." Robinson goes on to detail: "Squadron A had the reputation of being well-educated (Columbia, Princeton, Harvard, Yale, etc.) affluent, socially prominent unit of the New York National Guard. Much was made of them performing the duties of the ordinary soldier," which involved training new recruits and "educating" the horses.
While Squadron A never fired upon an enemy during their Mexican border service, Robinson wrote, "the deployment provided invaluable lessons for the troops," which prepared them for World War I service less than a year later.
During World War I in 1917, Squadron A had grown to more than 750 officers in the United States Army. In August of that year, Squadron A was re-designated as the 105th Machine Gun Battalion, 27th Division. Lieutenant William Bradford Turner from Dorchester, Massachusetts, played a heroic role for the 105th in the First World War. "He led a small group of men to the attack, under terrific artillery and machinegun fire, after they had become separated from the rest of the company in the darkness," reads his online memorial, which goes on to say, "Regardless of the fact that he had been wounded 3 times, [he] killed several of the enemy in hand to hand encounters."
"After his pistol ammunition was exhausted, this gallant officer seized the rifle of a dead soldier, bayoneted several members of a machine gun crew, and shot the other. Upon reaching the fourth-line trench, which was his objective, 1st Lt. Turner captured it with the 9 men remaining in his group and resisted a hostile counterattack until he was finally surrounded and killed." This posthumously earned Lieutenant Turner the Medal of Honor in 1919.
Advertisement



Come World War II, Squadron A members became part of the 101st Cavalry Group that fought in Germany and Austria. New York State Military Museum and Veterans Research Center records show that, "On January 30th, 1945 the 101st Cavalry crossed the English Channel and landed in Normandy." It's remarkable to point out that, "During its drive across Germany, the 101st Cavalry Group sustained a total of 217 casualties. Of these 44 were killed, 162 were wounded, and 11 were missing in action. The 101st advanced quickly and almost recklessly during its 85 days of combat and in so doing captured a total of 27,346 enemy prisoners, a total that surpasses the unit's own effective strength by over 15 times."
Life after wartime saw Squadron A continue as a social club, while sharing the armory with a police unit. The Armory also "kept up its tradition of Saturday night polo games," wrote The New York Times in a historical analysis titled "A Lone Wall Recalls A Courageous Cavalry's Past."
Despite its historic significance, New York State began taking down the Armory, which took up the entire block between 94th and 95th streets, around 1962. By 1964, residents in the Yorkville and East Harlem neighborhoods were pushing for housing and a school to take its place. If it wasn't for a New York City landmark designation in 1966, it's likely nothing would be left at all.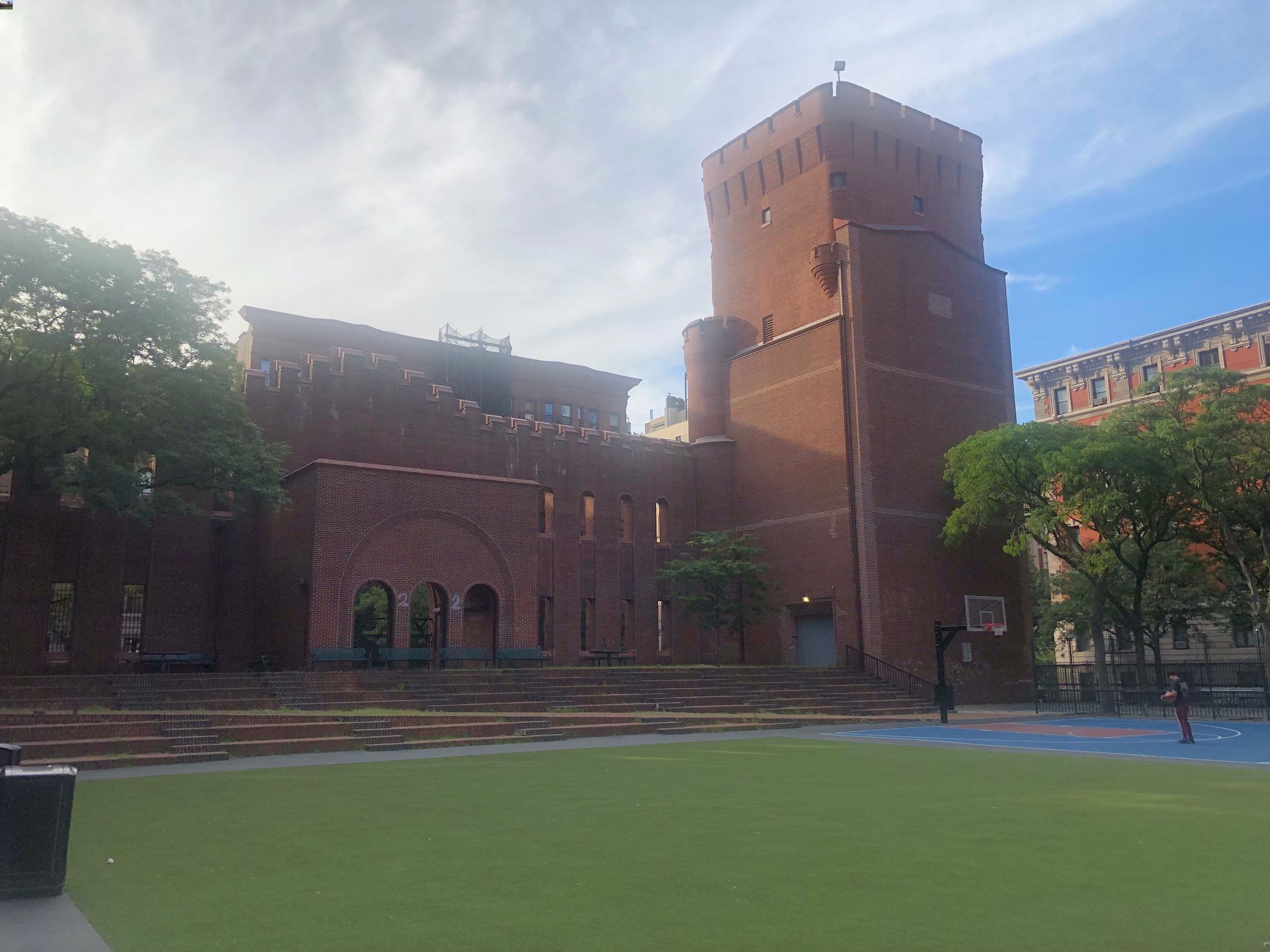 "The two brick towers of the Madison Avenue front of the 'Squadron A' Armory evoke strong memories of a fortified medieval castle," reads the analysis from the Landmarks Preservation Commission. "The last remaining wall with the towers at each corner, executed in military architectural style, form an imposing structure of monumental scale and stark simplicity."
There's turrets and battlements described as "a product of American inventiveness," while a representative of the New York City Department of Parks & Recreation testified that, "the façade is an example of a type of Military Gothic architecture and workmanship, which is no longer being built in New York City and which will probably soon disappear entirely from the urban scene."
On the outside wall of the armory reads a bronze plaque with the Squadron A Armory motto: BOUTEZ EN AVANT ("Push forward"). A wise reminder for some New York City's sharpest young minds, at the same site that helped develop one of the City's proudest military outfits.