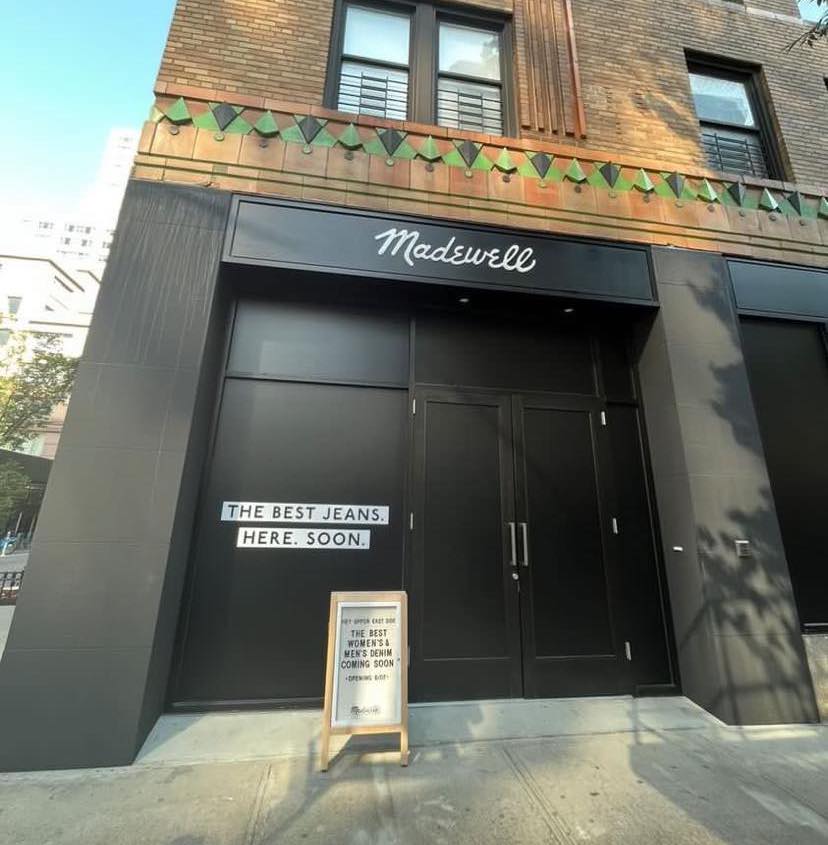 Madewell, the retailer known for its casual styles in denim, will be relocating to 1165 Third Avenue (at East 68th Street) on Wednesday, June 7, signage indicates. Its now-closed previous location was at 1144 Madison Avenue between 84th and 85th streets.
Advertisement



A division of J.Crew since 2004, Madewell currently has 152 stores across the United States. We're told Madewell will carry items for women and men at the Third Ave. location, with swimwear and lounge options from its spring line. Madewell also carries maternity clothes and fashion for all shapes of women, ranging from tall, taller, curvy, petite, plus and curvy.
In a recent Refinery29 story titled "Madewell's New Spring Line Is A Love Letter To The '90s," Jinnie Lee writes that Madewell is "a crucial destination for seasonal dresses, outerwear, shoes, and accessories – the one category that the retailer has a constant chokehold on is denim." Lee call out Madewell's collection of Perfect Vintage jeans as a quality line that won't blow up your bank account. "Cut in a variety of washes, silhouettes, lengths, and sizes, it's no shocker that these jeans remain a best-seller for the brand. (Full disclosure: I, too, am a true believer of these jeans, as a person who swears by vintage denim.)," wrote Lee.
Before it was picked up by J.Crew in 2004, Madewell was founded by Russian-born immigrant Julius Kivowitz as a workwear clothing brand in 1937. In 2015, a story by DigiDay described Madewell as J.Crew's "golden goose." They also noted an op-ed by Dan Nosowitz, the great-grandson of Madewell's founder, that was published in Buzzfeed a year earlier.
Advertisement
Nosowitz had mixed feelings about the current state of Madewell, stating "How many corporations are out there rifling through the defunct brands of America's past like a bin of used records, looking for something, anything, that will give them that soft Edison-bulb glow of authenticity?" In the end, though, he concluded, "If Julius were alive, I think he'd be very impressed that a company called Madewell posted revenue of over $180 million in the fiscal year 2013. He would care not at all about whether it was authentic, or what the word 'authentic' even means."
New York Magazine recently cited Madewell's 11-inch high-rise flare jeans in durland wash and its two-pack rhinestone mini claw hair clips in its "22 Things on Sale You'll Actually Want to Buy" feature.