We recently wrote about the backroom renovations taking place at CRAVE, the bakery previously known as Mercato Rustico at 1300 Madison Avenue, between 92nd and 93rd streets. While it's the same owners behind CRAVE, several noticeable alterations have been taking place within the shop, which is currently under scaffolding.

The most curious aspect of CRAVE's remodeling is what's happening behind its bookcase, which stealthily serves as the gateway to a secret backroom speakeasy. On Monday, East Side Feed was granted a sneak peek to see how the progress was coming along.
Press on the bookcase in the corner of CRAVE and you'll find two chandeliers dimly illuminating two wraparound leather couches in the southwest and northeast corners of the space. Chipped paint and fragmented wallpaper make it clear this is still a work in progress, with round tables and boxes of glassware holding their post, waiting to come out and play.
Coffee-themed artwork by Michael Godard is currently hanging; Godard has been regarded as a "Rockstar of the Art World." We're told that all the artwork inside CRAVE's speakeasy will be available to purchase once it opens – indicating visitors will get to enjoy an ever-changing array of artistry.
We spoke briefly with CRAVE's manager who indicated the drink menu — along with the estimated opening date — are still up in the air, so keep your eyes peeled.
READ MORE: Golf Simulator Spot with Bar + Restaurant Opening on UES
At a recent Community Board 8 meeting, CRAVE was granted a permit to serve wine, beer and cider in its speakeasy, which is slated to seat 36 people. Expect to hear classical music playing over the sound system once the bookshelf beckons.
Currently, all orders at CRAVE are to-go, but soon enough you'll have the opportunity to enjoy the evolving bakery's Bombolone, tarts, layer cakes, cookies, gelato, ricotta cheesecake, cannolis and drinks galore in its new 'secret' bar.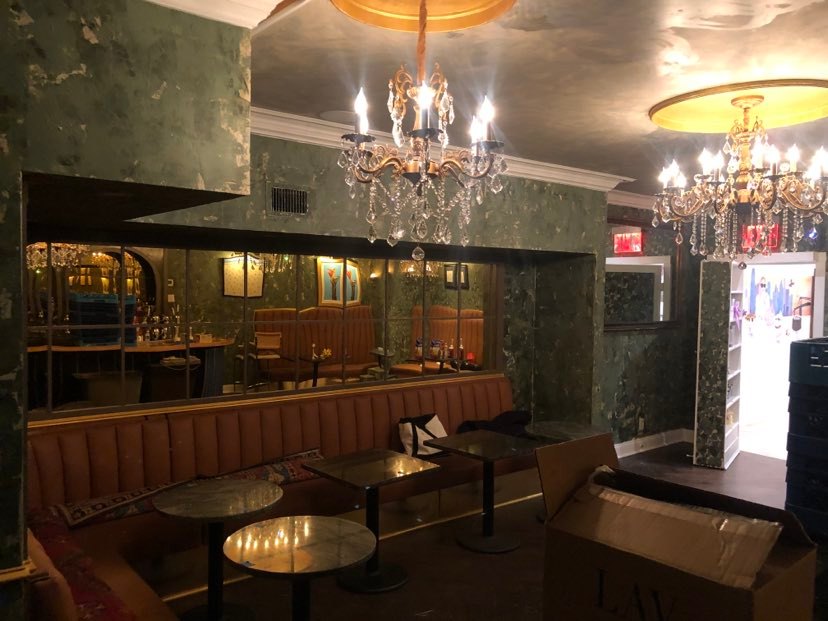 From the looks of it so far, this soon-to-come addition appears to have the makings of a fun post-meal pop in … and to be a great spot to impress.
CRAVE's current hours are Monday through Sunday 8am – 7pm. This will surely change soon; we'll provide an update once we learn more.