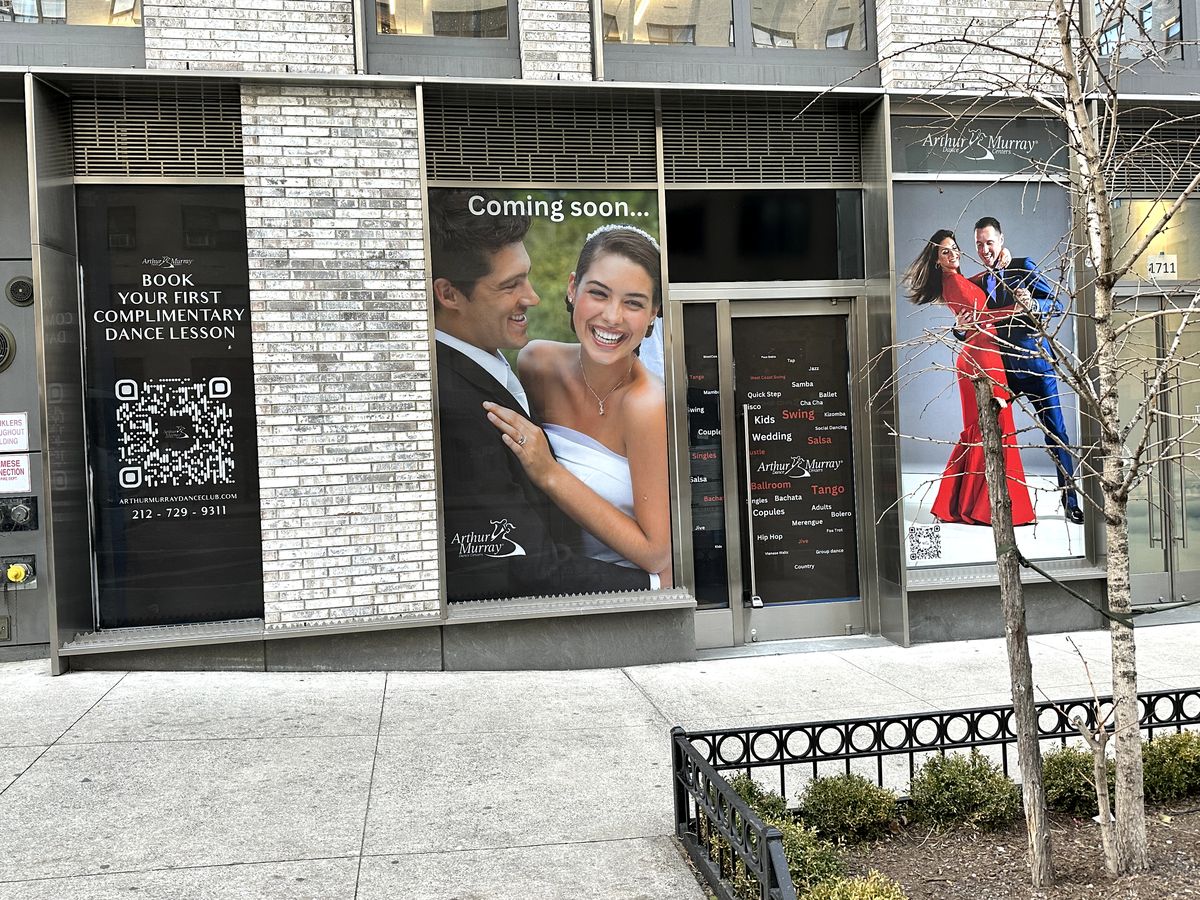 The waltz, mambo and foxtrot are making their way to the Upper East Side with Arthur Murray Dance Center coming to 1711 First Avenue between East 88th and 89th streets. A representative told us they plan to open sometime in April and will offer a complimentary first dance lesson.

Advertisement



Born in 1895 in Galicia, Austria-Hungary, Arthur Murray moved to Ludlow Street on the Lower East Side with his parents in 1897. "By 1920, Murray had come to the Battery Park (to teach) for his sixth consecutive summer. He had, by that time, started his chain of studios and had become the highest-paid syndicated writer about dance in the country," details the Citizen Times in a 2017 story. Not bad for a 19-year-old.
In present day, the Arthur Murray Dance Center teaches 15 different dances, including swing, cha-cha, country western, the ones we mentioned earlier and more across four different programs. Entry level is the Basic Introductory Program, which focuses on foot position, rhythm and timing while "leading or following with enough variety to keep your learning experience interesting," states their website.
Arthur Murray also offers bronze, silver and gold dance programs as you work your way up from feeling free on the dance floor to working on your styling, technique and balance.
Anyone who's been to their fair share of weddings knows that ballroom dancing can be a very popular first dance for the married couple. This is another dance medium Arthur Murray specializes in. They say, "The benefits of ballroom dancing are easy to realize. Fun, exercise and meeting people are natural outcomes of social dancing. Dancing opens doors at social events and private functions." Wedding packages for brides, grooms and wedding parties are available.
Currently, Andy Murray Dance Center operates around 270 studios across 22 countries, including Australia, Italy, Japan, Jordan, Mexico, Brazil and more. They celebrated their 100-year anniversary in 2012 and first began franchising in 1939 in Minneapolis.
Advertisement
Those interested in learning more or booking your first complimentary class can call 212-279-9311 or visit their website 
here
.
Now, flashback to 1937 with this video of The Arthur Murray Shag Dancers doing a move called "The Big Apple."