Happy Opening Weekend! New York City has long been a baseball haven, once home base to three big league teams. With centuries of baseball history just a subway ride away, it is not surprising that many of the players spent a lot of time on the Upper East Side. Here are a few.

Advertisement
Lou Gehrig
Heinrich Ludwig Gehrig II entered the world as a 14-pound bundle of joy to his German immigrant parents on June 19, 1903. The Americanized Henry Louis became Lou — who became the Pride of the Yankees and baseball's original "Iron Horse."
It is undisputed that he was born on the Upper East Side. But where exactly? Two addresses claim the honor.
The Yankees organization erected a plaque at 309 East 94th Street in November 1990, marking the Yorkville address as Gehrig's place of birth. Number 309 remains a site fans visit to this day because of this dedication. But long gone is any sign of what was likely a typical city tenement building in the early 1900s. The current structure was built in 1927 and is set to be redeveloped.
However, Gehrig's birth record confirms his first address was 1994 Second Avenue at East 103rd Street — and a memorial plaque unveiled there in May 2005 proudly stakes its proper claim. While the East 94th Street address is not the legend's birthplace, common belief is that it was an early residence. But when remains unclear.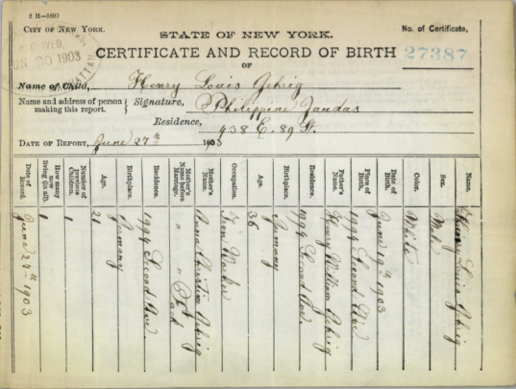 The 1910 United States Census places six-year-old Lou and his mother Christine at 2264 Amsterdam Avenue (between 172nd and 173rd streets). Lou's father Henry, an iron worker, is reported to have resided several blocks away at 2260 Audubon Avenue, though this may be a transcription error. The 1920 census sees the family together at 2079 Eighth Avenue (at West 113th Street) with single Lou in New Rochelle in 1930 and in the Riverdale section of the Bronx in 1940 as a married man.
Young Lou attended grammar school at P.S. 132 in Washington Heights (check out his school pic here) and high school at Commerce High School on West 65th Street (today's Julliard), where he was a baseball star. He later attended college at Columbia before moving his game to the big stadium in the Bronx. (Check out these photos of Gehrig at Commerce playing football or the earliest known baseball photo of him here. Here's another pic of Lou at Columbia, his famous left-handed swing already in prime form.)
Derek Jeter
During his rookie season in 1996, after leaving Cronies on the Upper East Side, Derek Jeter first saw someone wearing a shirt with his name and his now-retired number 2. The restaurant was located at 1695 Second Avenue and became the original location of Café d'Alsace. The address will soon be home to a 270-foot-tall residential tower.
But 1996 also saw the theft of the Hall of Famer's Mercury Mountaineer after defeating the Baltimore Orioles in the American League Championship Series. The SUV was stolen between East 79th and 80th streets, right outside his Second Avenue apartment, along with his favorite jacket, some other clothing, and his CD collection that were inside.
The Yankee legend eventually made his way to Midtown East. He lived at Trump World Tower near the United Nations from 2010 to 2018.
Advertisement
Pete Alonso
Reigning Home Run Derby champ Pete Alonso moved to Manhattan in April 2019. He and then fiancé Haley Walsh shared a one-bedroom apartment on the Upper East Side while the rookie first baseman smashed his way into stardom with 53 home runs.
The Tampa native was surprised by how much he enjoyed the Big Apple, so much so that he planned to spend the 2019 offseason here and preferred that the view from his high-rise overlooked the city instead of the coveted water view.
Alonso is also a big fan of the neighborhood's Pastrami Queen (1125 Lexington Avenue at East 78th Street). "This deli is life changing. You're welcome," he tweeted in December 2019.
Ichiro & A-Rod
After superstar Ichiro Suzuki was traded to the Yankees in the summer of 2012, he rented an apartment at the Laurel condominium building at 400 East 67th Street near First Avenue. The 2778-square-foot, 4-bedroom, 3.5-bath pad cost the hit machine $40,000 a month.
When Ichiro moved to 111 Central Park North, Alex Rodriguez was rumored to have scoped out the Upper East Side apartment. This was in March 2013, after he sold his condo at the Upper West Side's Rushmore at 80 Riverside Boulevard. A-Rod now holes up at the Beresford at 211 Central Park West.
David Wright and David Cone
Mets hero David Wright moved to the Upper East Side in March 2011. He rented a two-bedroom apartment at the Lucida at 151 East 85th Street for $12k a month. Wright jumped across the East River to Long Island City in 2013 for an apartment at the Avalon Riverview.
Former Mets and Yankees pitcher-turned-broadcaster David Cone also lived on the Lucida. The Observer reported that he sold his four-bedroom condo to move downtown to Greenwich Lane. Coney's initial asking price was $6.495 million in July 2014. He settled on $5.9 million in March 2015, about two million more than $3.76 million price he paid for it in 2011.
Keith Hernandez
When Keith Hernandez arrived in New York as a St. Louis Cardinal in the 1970s, a friendly coach told him the Upper East Side was a safe place to go. But he didn't feel safe, so he stayed at the hotel bar.
He later moved to Manhattan when he became a Met in 1983, but it's unclear where he lived at the time. In 1992, he famously asked Seinfeld to help him move from his Upper East Side walk-up apartment in the sitcom's third season.
No matter where he lived, Hernandez was a regular in the neighborhood. He often dined at Elaine's at 1703 Second Avenue, between 88th and 89th streets, and joined former teammate Ron Darling for "potato skins and ribs at Rusty's on 73rd and Third (Avenue) after it seems like each and every ballgame." Rusty's was owned by Rusty Staub, former New York Met player and broadcaster.
Advertisement
Carlos Beltran
Carlos Beltran shelled out $9.3 million in 2015 for a penthouse at 300 East 79th Street. The triplex offered Beltran and his wife "a private 650-square-foot rooftop terrace, five bedrooms, five bathrooms, a dining room, a library, a media room and a grand staircase."
The former outfielder played for the Royals, Mets, Yankees, Giants, Cardinals, Rangers and Astros. Beltran was hired as the Mets manager for the 2020 season but resigned after he was named as a ringleader in the Houston Astros sign stealing scandal. As a newly hired in-game analyst for the YES Network, he will call 36 games in the near future.
Reggie Jackson
Reggie Jackson lived on Fifth Avenue overlooking Central Park but his exact address is not known. He was reportedly a big fan of Viand Coffee Shop at East 61st Street and Madison Avenue.
He, like Jeter, had a car stolen from the neighborhood in 1981. Jackson's vehicle – a red 1978 Mercedes-Benz 450 – was parked within the confines of NYPD's 19th Precinct, where Jackson was known to frequent "jock bars." Some of Jackson's favorites were Oren and Aretsky at 1497 Third Avenue near East 84th Street and Jim McMullen's on Third Avenue between 76th and 77th streets, both long gone.
Jorge Posada
Core Four member Jorge Posada lived at the Seville at 300 East 77th Street from 2003 until his retirement in 2012. The former catcher and his wife Laura bought an adjacent apartment in 2007 and combined the space to create a 5,600 square feet four-bedroom, full-floor condo.
The couple sold the property for $9.5 million and moved to Florida with their two children. While they lived in Manhattan, the Posadas often spent time in Central Park and at the now defunct Mickey Mantle's restaurant that operated on Central Park South for nearly 25 years.
Jacob DeGrom and "A Bunch of Crappy Mets"
 Long before Mets pitcher Jacob DeGrom became a legitimate ace, he was grouped into a class of players termed as "a bunch of crappy Mets." Aside from DeGrom, the "mediocre" group included Eric Campbell, Ike Davis, Josh Satin and Kirk Nieuwenhuis.
Davis and Satin shared first base duties in 2014 as well as an apartment rental in the neighborhood. When Davis was traded and Satin demoted in April 2014, Nieuwenhuis moved in and split the rent with Satin, who still held the lease. DeGrom and Campbell moved in mid-season. The exact location of the apartment is not known and DeGrom himself does not remember where it was located.
Eight years later, the four-time All Star no longer lives in the hand-me-down. But he does remain on the Upper East Side along with his wife Stacey Harris and their Maltese and Yorkie mix called Pixie.
Advertisement
David Wells' Toast and Teeth
David Wells' devil-may-care attitude made him a Yankee fan favorite. His perfect game in 1998 probably had something to do with that, too.
Wells and teammates David Cone and Graeme Lloyd toasted this feat, only the 15th perfect game in baseball history at the time, at Dorrian's Red Hand Restaurant at 1616 Second Avenue at East 84th Street. In 2002, the burly starter lost two teeth after brawling with an Upper East Side bartender in 2002 at Gracie's Corner Diner at 352 East 86th Street.
The former Yankee, who famously wore one of Babe Ruth's hats during a game, went on to play for San Diego in 2004 and never returned to don the pinstripes after wrapping up his career in 2007 as a Los Angeles Dodger. He has, however, kept New York in his heart.
At the start of the COVID-19 pandemic in April 2020, Wells stepped up to the plate for the City in a way that only he could. He sold four autographed protective cups used during his career for charity. He also wrote a $10,000 check to help Manhattan caterers Sage & Zest and planned to send a few thousand dollars to the Upper East Side's Luke's Bar & Grill (1394 3rd Avenue between East 79th and East 80th streets).
"New York felt like a second home to me because of the way I was received and how the people responded to me," said Wells, who pitched for the Yankees in 1997, 1998, 2002 and 2003. "In the city, I would go out all the time, and I would hang with everybody. I wasn't a hermit, I was gonna go to your restaurant and have a beer with you. Every time I go to New York, I feel like I'm home. That's why I want to help New Yorkers."