Community Board 8's Zoning and Development Committee assembled on March 28 to discuss several matters including Memorial Sloan Kettering Cancer Center's plans for a new pavilion on York Avenue between East 66th and 67th streets.

Memorial Sloan Kettering (MSK) has been part of New York City since 1884. Its first building is the reportedly haunted 455 Central Park West, which resembles a low-rise castle. Its current presence on the Upper East Side includes the David H. Koch Center for Cancer Care at 530 E 74th Street (off FDR Drive) and 1275 York Avenue, the proposed site of the new pavilion.
The MSK team was candid about why it was seeking to construct this new building and the picture it painted is grim: cancer rates are expected to increase by 50% by 2050. This means that 1 in 3 people will be diagnosed with some form of the disease and that those astounding numbers will come to affect larger groups of people under the age of 50, with rising rates of breast, prostate, and colon cancer.
Advertisement
Dr. Lisa DeAngelis, MSK's Physician-in-Chief and Chief Medical Officer, called the proposed pavilion a "must have," noting that MSK intends to stay at the forefront of cancer care and that this facility is needed to do that. Dr. Jeff Drebin, Acting Hospital President, piggybacked on this by stating that MSK performs more cancer surgery than any of other hospital in the United States and does so at a rate of more than 10%. But, he added, the technology it uses is the "technology of yesterday."
To make way for its proposed pavilion, MSK would demolish its two existing residential towers on York Avenue between East 66th and 67th streets which are now both less than 300 feet tall. The exterior of the pavilion has not yet been designed but the expected height is 594 feet, according to Foster + Partners, Pavilion Design Architect Justin Boyer.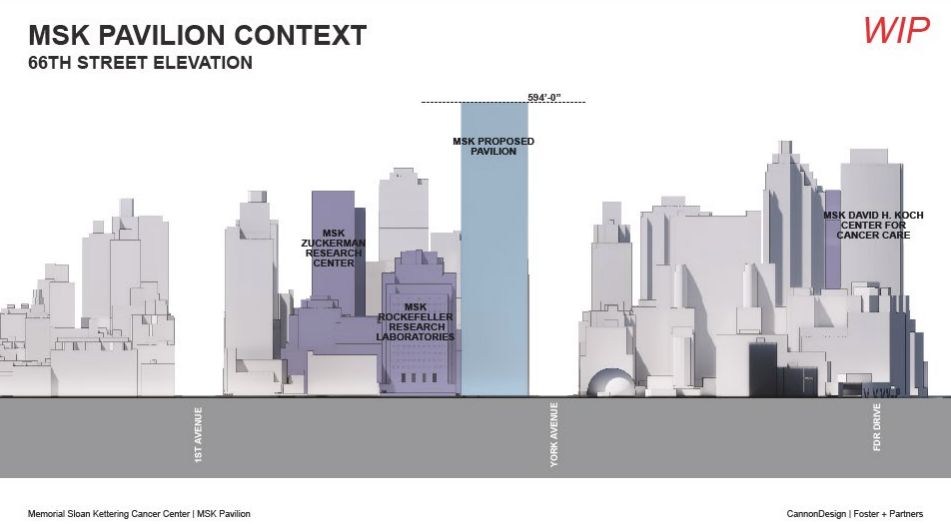 The structure would be integrated with the existing Memorial Hospital and would include three levels of underground parking, a two-story lobby, seven operating floors, nine floors for patient rooms, and three levels of mechanical space on top. The 200 in-patient rooms, which would include 60 ICU beds, would all be single occupancy and average between 250-300 square feet. The 28 operating and procedure rooms are expected to be 650-700 square feet on average.
Loading and unloading would occur on East 67th Street and not the wider avenues. A bilevel pedestrian bridge would also stretch across 67th Street. It is expected to be about 75 feet from street level and would be connecting the seventh and eighth floors of the pavilion to the main Memorial Hospital.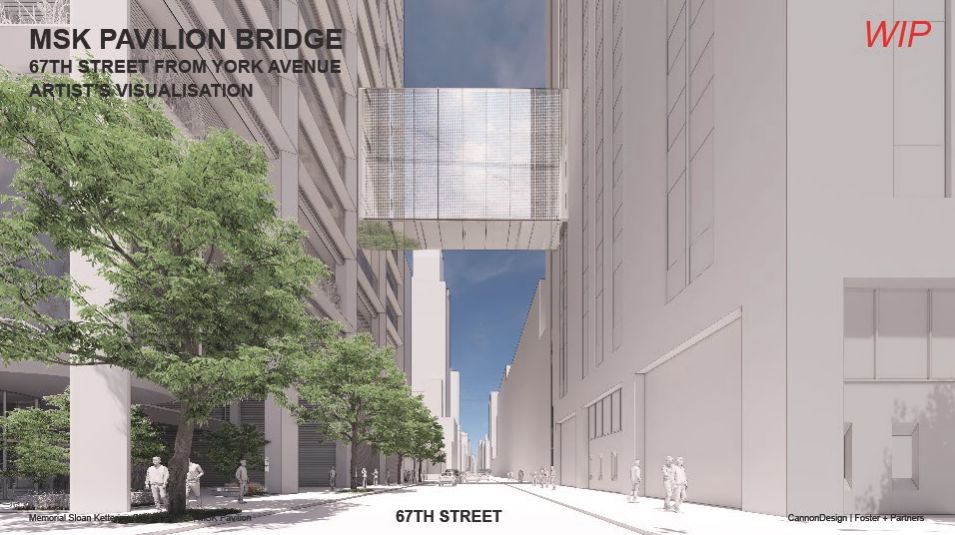 The pushback from those in attendance was not as fierce as the team from Lexon Hill Hospital faced in February. However, the comments MSK faced focused on two main areas – the proposed height and the demolition of the residential buildings.
Advertisement
It was generally agreed that the proposed building is "bulky." Even the MSK team did not disagree. One board member suggested a rather unique way for the
hospital
to address this:  demolish all the current structures at the York Avenue location from East 66th to East 68th streets, in full or incrementally, relocate indefinitely (without a suggestion as to where) for the duration of the construction, and then rebuild the pavilion on a "lower and less dense" scale. This suggestion also included moving patients between buildings that are under construction post-surgery if the current structures were to be demolished in part over time.
Dr. Drebin explained that this suggestion would be impractical due to the way aftercare and recuperation time works for these types of surgeries, and that it does not account for a variety of other necessary medical offerings, such as blood bank services. Dr. DeAngelis added that "you can't just put beds in a couple of places. You have to be able to support them fully."
Regarding the housing concerns, Dr. DeAngelis confirmed that those who will be displaced are all MSK employees, including trainees. She reported that MSK has already started to plan for them with housing in Roosevelt Island and "other housing throughout the community," and has considered "started shifting some of more senior people who could go out to market perhaps so younger [employees] can have access to housing."
No definitive action was taken by the Committee. A scoping hearing for MSK is scheduled for April 27.