Community Board 8's Zoning and Development Committee closed out the month of Feb. by hosting representatives from Northwell Health and Lenox Hill Hospital to further discuss its $1.6 billion expansion proposal. The four-hour meeting included plenty of feedback from board members and the public alike, much of it centered on the long-term construction and its impact on the surrounding community.
Advertisement
The current location – situated on Lexington Avenue between East 76th and 77th streets – has 450 acute care beds and services 144,00 patients annually. It has been on the Upper East Side for over 160 years and includes "10 separate buildings stitched together over 100+ years," the most recent constructed more than 50 years ago.
Northwell did its best to sell the plan to those in attendance. It touted its presence across the city and what it believes are the benefits of the project, namely converting its 278 shared rooms into 475 single-bed rooms, thereby cutting down on the risk of infection and increasing both patient confidentiality and space for family. The current operating rooms would also expand from 300-500 square feet to 600-1,000 square feet. This increased space, according to Northwell, will also allow "critical people" to be in the room.
However, major bones of contention from those in attendance surrounded the height of the building, traffic flow, and the impact on the subway at East 77th and Lexington Ave. Many questioned the benefit of adding this tall tower and an anticipated eleven-year-long construction project to the neighborhood when, in the end, the hospital gains only 25 hospital beds.
The hospital representatives tried to rebut these concerns by noting that single-occupancy rooms are the nationwide standard and repeatedly stressed that the project is also necessary to keep up with future technology and practices. As questions were raised concerning the welfare and quality of life of Upper East Side residents during the course of the project's many years, the "quality of care" for patients was always cited as the overarching justification by Northwell.
Advertisement
Committee member Michele Birnbaum did not hold back. "No one wants it," she said regarding the proposed tower. She asked Northwell what it could do to lower its projected height, and the hospital team noted it had already lowered it 80 feet from its earlier proposal; The new proposed height, including the mechanicals, is 436 feet versus the original 516. The revised proposal also intends to reuse "more of [the] existing hospital and [allegedly would] significantly reduce [the] extent of renovations."
Addressing concerns about the impact on the nearby subway station, Northwell said it will be modernized and made more ADA accessible above ground down to the platform. However, there are no definite plans to modify the tight platform space. Northwell also noted that the subway stop is not expected to close during the project, though it could not confirm how two points of ingress and egress will remain open, as required under law.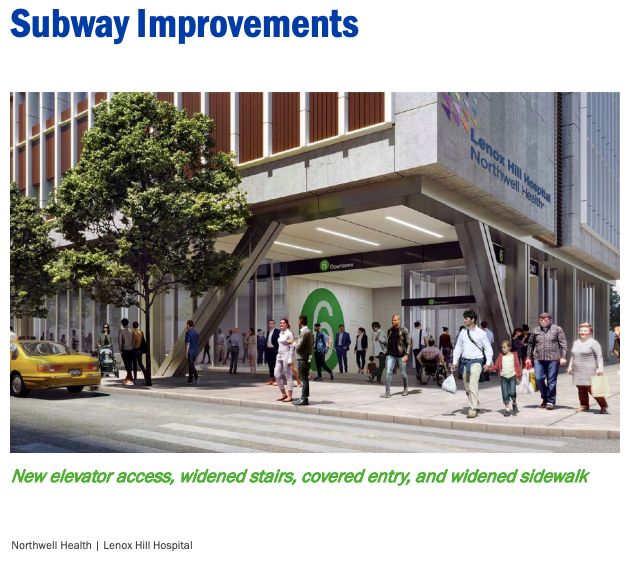 The hospital team did try to allay concerns about traffic flow by noting how they plan to eliminate an existing issue where delivery trucks often hang out into the street and ambulances block traffic. All deliveries and drop-offs would move off the street, thereby clearing it for a free flow of traffic as the expansion would include six ambulance bays (it currently has none) and seven receiving bays from three.
Despite Northwell's best efforts, they did not appear to win over most in attendance. Some showed concerns about dealing with construction for a decade while not really having much interaction with the hospital, outside of maybe walking by it.
Advertisement
Notably, several questions from those in attendance were met with what can only be described as non-answers. Two examples included why the project – initially estimated to take 8 years, then extended to 10 – is now an 11-year endeavor, and how does Northwell "intend to not have a negative impact when its current operation already has a negative impact traffic and parking wise?" In response, Northwell expressed its commitment to the shortest timeframe possible in the most efficient way available. No other information was offered by the hospital team. One question that Northwell did not answer outright was if any other hospital – similarly located in a densely populated area – took eleven years to complete construction while adding only 25 beds.
Members of the public also asked why Northwell did not look elsewhere to open this new hospital rather than impact the community for so long. The response – several times over – was that this is where Northwell has been and it was not looking to go anywhere else.
Another repeated question was whether the single occupancy rooms will mean a steeper cost to patients or a monetary windfall to the hospital. Northwell repeatedly answered no to both questions, in all instances.
Northwell also addressed the rumor that this hospital's location would close if the proposal were not approved. John Flanagan, Northwell's Senior Vice President for Government Affairs, replied by stating that nearly $300 million has been invested since 2010. However, he stopped short of offering an alternate plan if this one were not approved.
If given the green light, construction would be expected to start "sometime in 2025." The Northwell team tried to assure those in attendance that they would follow the Department of Building's 7am to 6pm, Monday to Friday schedule. However, it did mention that it would likely seek permits for later start and finish times on Saturdays and potentially some Sundays throughout the life of the project.