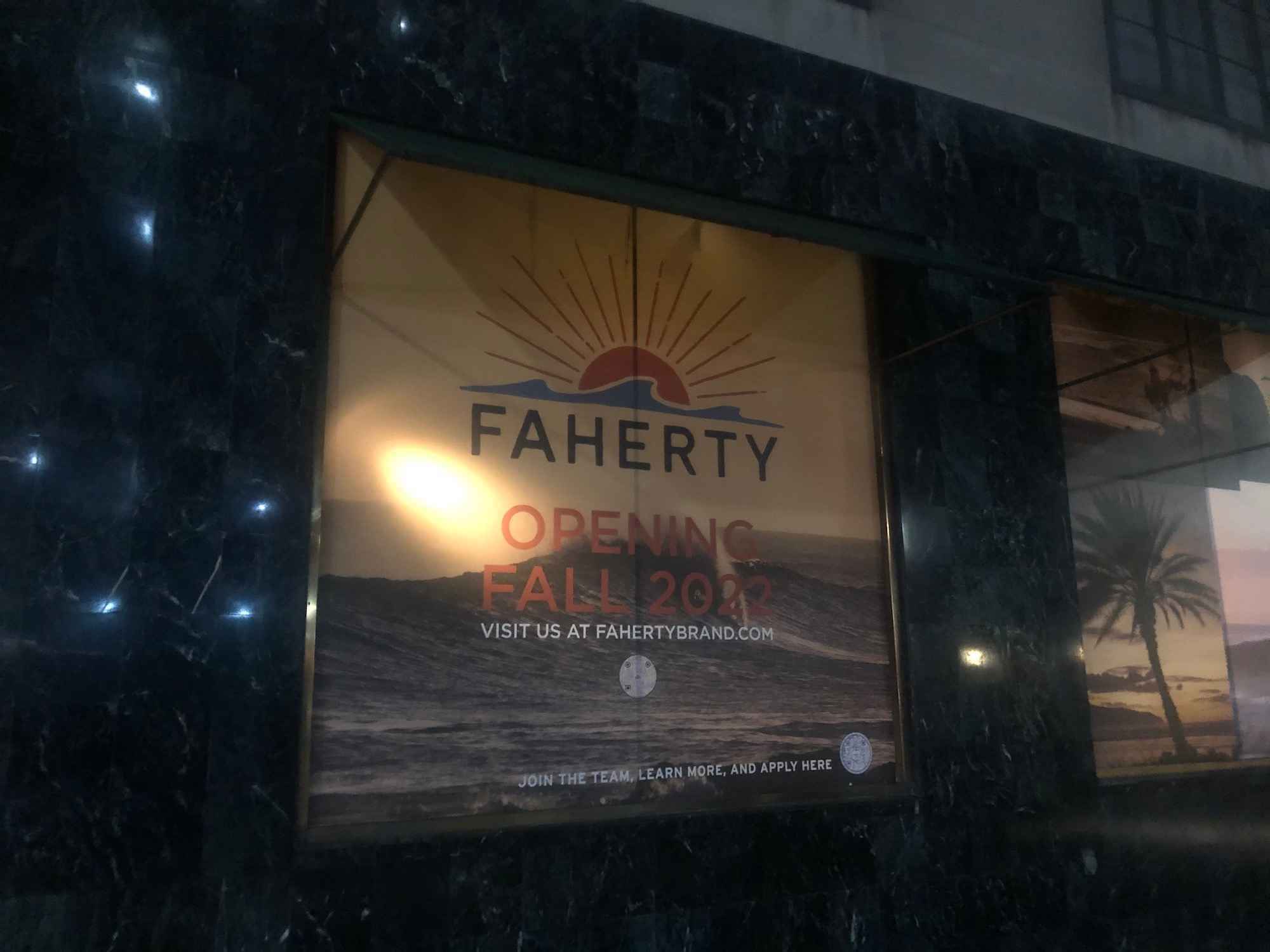 A sign in the window on the corner of East 86th Street and Madison Avenue reads "Faherty, Opening Fall 2022." The surf-wear brand that debuted in 2013 now has thirty-seven locations across the country and counting. Faherty opened its latest shop in Steamboat Springs, Colorado last month. The New York-based company currently has four retail storefronts open in NYC, including one that opened last summer on the Upper West Side.

Advertisement



The first product Faherty brought to market were swim trunks. They've since evolved to offer a variety of swimwear for men and women, as well as outerwear, pants, shorts, t-shirts, hoodies/sweatshirts and an array of accessories like hats, belts, sunglasses, dog collars and apothecary items.
Similar to Patagonia, Faherty's clothing line has a lifetime guarantee. "We consciously create our clothes to last forever," states Faherty's website. "Everything we make is high quality and guaranteed for life. If for any reason a product does not meet this standard, we will repair it, replace it, or provide a refund at any time." This type of customer service is a great way to gain new customers that turn into devout brand advocates.
But the company has been the focus of some controversy. In a 2021 interview with Glossy, Faherty's co-founder and chief impact officer Kerry Docherty discussed the brand investing in the Native-American community after it'd been called out for saying they offered "Native inspired" designs without any Native-American designers. "[The focus is] how we, as a brand, can differentiate ourselves as someone who's [allying] with the Native community, instead of exploiting it," said Docherty. Rather than "appropriating" Native designs, Docherty is learning about Native culture and art and "focusing on long-term impact" and relationships with Native designers, she said.