Here's a running list of fun Halloween events taking place on and near the Upper East Side. We'll add to this list as we discover more, and feel free to email us if you know of something we should be including. Please double check all dates and times before going!

Halloween Bash at Dylan Murphy's
1453 Third Avenue | Saturday, October 29 at 9 p.m.
The Irish bar will be offering drink specials and hosting a costume contest with the first and second-prize winners getting $200 and $100 bar tabs. These will be awarded at midnight, and the party will be raging 'til "late."
Halloween Dance Party at Bohemian National Hall
321 East 73rd Street | Monday, October 31 at 7 p.m.
Ballroom dancing led by professionals who'll show you the "tricks and treats of dancing the night away." There will also be a Halloween costume contest and buffet. Tickets ($58.49) can be purchased here.
Halloween Howl & Healthy Hound Fair
Carl Schurz Park | Sunday, October 23 from 1 – 3 p.m.
Bring your costumed pup (and/or child) and get the recognition you deserve! Details can be found at carlschurzparknyc.org, and here's a flyer: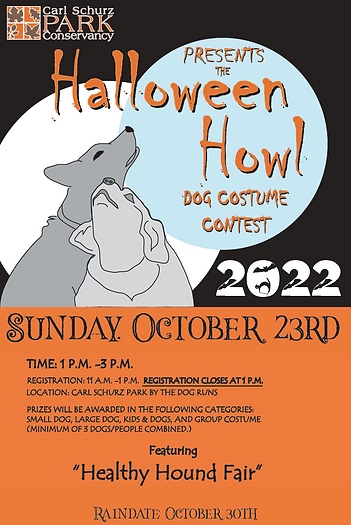 UES Halloween Bash at The UES
1707 Second Avenue | Saturday, October 29 at 8 p.m.
This event will include a live DJ, costume contest with prizes, "Spooky Cocktails & Snacks," and tickets ($45) will include "entry to the Storage Room, complimentary tequila, and swag bag." More details here.
Halloween Bash at The Liederkranz Club
6 East 87th Street | Saturday, October 29 at 7 p.m.
The annual shindig will offer attendees two dance floors, two DJs, two bars and two buffets. Tunes will include European dance classics from the 1980s and '90s along with "international hits from yesterday and today;" food will include an Alpine cuisine (here's a Wikipedia page on that) and a "large international buffet;" and there will be full bars and an 11 p.m. costume contest. Tickets start at $51.79. Here's the Facebook event page.
Advertisement



Lights Out at The Met! The Met Pajama Party
The Met, 1000 Fifth Ave | Tuesday, October 25 from 5 — 7 p.m.
This family-friendly event includes "a variety of art activities, a Halloween-inspired breakfast-for-dinner menu, and live entertainment in the Temple of Dendur." Halloween costumes (or pajamas) are suggested. Learn more here.
Central Park Pumpkin Flotilla
Charles A. Dana Discovery Center (East Side at 110th Street) | Thursday, October 27 from 4 – 7 p.m.
Watch jack-o-lanterns float down the Harleem Meer, and feel free to carve and bring your own to join in the flotilla. This is a free event open to all ages; tickets are not required. Please learn more at www.centralparknyc.org.
Pumpkin Painting in Central Park
Pinetum East | Sunday, October 30 from 2:30—4:30 p.m.
Bring your own drinks and snacks and learn the basics of painting. Pumpkins and painting materials are provided, and attendees will be taught "the basics of painting ~ mixing primary and secondary colors, mixing tints, shading and blending all the while enjoying a social experience." Tickets are $39 through eventbrite.com.
CHN Spooktacular
92nd between Park and Madison avenues | Monday, October 31 from 4—6 p.m.
This annual event is sponsored by Carnegie Hill Neighbors, and this will be its 12th year. Packaged candy will be given out (mini chocolates, etc), a live DJ will play "child-appropriate music," and kids will get to participate in a freeze dance party.
Candlelight Halloween: A Haunted Evening at Church of the Heavenly Rest
1085 Fifth Avenue | Multiple dates and times
"Candlelight concerts bring the magic of a live, multi-sensory musical experience to awe-inspiring locations like never seen before in New York City. Get your tickets now to discover the spookiest Halloween inspired music at Church of the Heavenly Rest under the gentle glow of candlelight." Tickets are $40 a piece. For details, please click here.
Cocktails And Culture: Twilight Zone Halloween Bash at the Museum of the City of New York
1220 Fifth Avenue | Friday, October 28 at 6:00 p.m.
Dancing, live DJs, a Twilight Zone-inspired ballet performance, Halloween-themed cocktails and a costume contest (those who attend are encouraged to dress up as a Twilight Zone character). Tickets ($20 for adults, $14 for students and seniors) and more info can be found here.
Create Your Own Spooky Adventure: Check out some tricked out brownstones and Upper East Side ghost sites!