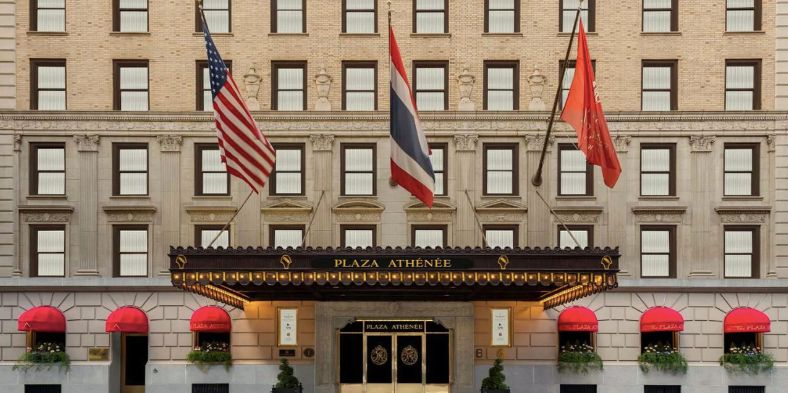 The COVID-19 pandemic infamously ravaged New York's hospitality scene, leaving some of the city's most beloved establishments in its wake. One such casualty was the Plaza Athénée (at 37 East 64th Street between Park and Madison avenues), a five-star stalwart named after the iconic hotel of the same name in Paris.
Advertisement



And just like that, the once-glamorous import is getting a new lease on life — but this time around, there will be sushi.
Thailand-based real estate developers Asset World Corp. (AWC) and Nobu Hospitality Group have teamed up to launch the Plaza Athénée Nobu Hotel and Spa New York, a 145-room hotel filled with every requisite amenity associated with the renowned lifestyle brand. Think sleek design, large suites with terraces, a traditional Japanese onsen facility, a lavish rooftop, a tricked out wellness center and — of course — a Nobu restaurant, which will serve up an omakase experience in addition to its other iconic menu items.
While Nobu Fifty Seven — the franchise's west side outpost — is a stone's throw away from Billionaires' Row, well-heeled Upper East Siders are sure to be thrilled the trademark miso black cod and yellowtail jalapeño dishes won't require crossing town.
Renderings of the space have not been released to the public, but Trevor Horwell, Nobu Hospitality's CEO, says it "will redefine the standards of luxury and sophistication in the U.S." What started as a partnership between Chef Nobu Matsuhisa and Robert De Niro to launch a Tribeca sushi spot back in 1994 has developed into a worldwide sensation, as there are currently around 50 Nobu restaurants and 30 hotels (open and in development). The laundry list of locations include Miami, Malibu, Madrid and Shoreditch, where a £120 all-you-can-eat brunch has become a social media sensation.
The project is scheduled for completion in 2026. More information can be found on Nobu Hospitality's website.