The Upper East Side has served as the backdrop and inspiration for an abundance of famous literary works. Many of literature's best-known personalities have also set up camp in the neighborhood. Our non-exhaustive list of both follows.

The East 70s Powerhouses
Several literary powerhouses called the East 70s home.
Joan Didion lived at 33 East 70th from 1988 until her death in December 2021. John Steinbeck stayed at 206 East 72nd Street from 1951 until he passed away in 1968. Dorothy Parker's last New York home was at the Volney at 23 East 74th Street. She resided there for four years until she passed away from a heart attack at this address in 1967.
Advertisement
Shortly after
Nora Ephron
ended her Upper West Side love affair in 2006, she
moved
to 136 East 79th Street with husband and author Nicholas Pileggi. Ephron lived there
until
she passed away at New York Presbyterian Hospital at East 68th Street and York Avenue.
21 East 79th Street was Tom Wolfe's home for half of a century. Five blocks downtown from the author's real address was the fictional home of his 1980s antihero. "Master of the Universe" Sherman McCoy lives at 800 Park Avenue between 74th and 75th streets in Wolfe's satirical novel The Bonfire of the Vanities. However, the film changes the home number to '816'.
Truman Capote's Breakfast at Tiffany's takes places largely on the Upper East Side. Main character Holly Golightly's fictitious home is located at 169 East 71st in the film adaptation. Fans of the iconic movie and book can follow in Holly's footsteps all over the neighborhood including a trip through Central Park via Fifth Avenue and Joe Bell's Bar which is set somewhere in the East 70s along Lexington Avenue.
The walls of Bemelmans Bar at The Carlyle (35 East 76th Street) are famously painted by Ludwig Bemelmans. He is the author and illustrator best known for the Madeline books. Madeline herself adorns the walls to this day.
Advertisement
The East 80s
The Metropolitan Museum of Art is the setting for at least two well-known novels. E. L. Konigsburg's From the Mixed-Up Files of Mrs. Basil E. Frankweiler follows two youngsters named Claudia and Jamie Kincaid who run away from home to live at the museum. My personal recommendation is Donna Tartt's Pulitzer-winning The Goldfinch. No spoilers, but the haunting scenes inside the museum may stick with readers long after finishing the last chapter.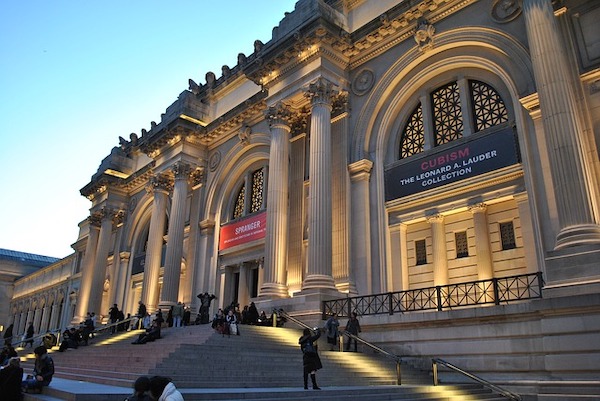 Harper Lee moved to New York to become a writer in 1949 and resided in a building on 82nd and York Avenue until it was demolished. She then relocated to her now-publicly known UES address of 433 East 82nd Street in 1967. Lee's most famous work, To Kill a Mockingbird, was released in 1960, three years after she finished it. Given that she lived on 82nd Street during her entire New York residency, it is feasible (and extremely likely) that she authored at least part of her great work on this block.
Rosemary's Baby takes place mainly on the Upper West Side. But Rosemary (and her baby) stopped in at the movie theater on 86th and Lexington before heading back to West 72nd Street. "She walked to Lexington Avenue and uptown to Eighty-sixth Street, where she went into the theater there, used the ladies' room, and then sat numbly in the safe cool darkness facing a loud color movie. … At twenty of eight she left the theater and took a taxi to Dr. Hill's office on West Seventy-second Street."
Lyle the Crocodile lives in a bathtub on East 88th. Or at least he does in The House on East 88th Street, the 1962 children's book written by Bernard Waber. In 2014, Lyle's Upper East Side address was granted literary landmark status. 412 East 88th Street now bears a plague dedicated to Waber and Lyle.
156 East End Avenue (at 87th Street) was home to Louise Fitzhugh's Harriet the Spy. Nestled in the Henderson Place Historic District, the Queen Anne townhouse hit the market in October 2020 for $6 million.
So where did all of these famous writers hang out? One likely place is Elaine's, the iconic bar and restaurant formerly located at 1703 Second Avenue (at East 88th Street). Named for its proprietor Elaine Kaufman, the legendary hangout played host to A-list celebrities from 1963 to 2011. Sadly, the restaurant closed six months after Kaufman passed away. The Writing Room followed in Elaine's former space in December 2013 but fell victim to the pandemic and closed in October 2020. Photos of some Elaine's clientele can be viewed here with pictures that include writer Candace Bushnell, Gay Talese, and Normal Mailer.
Advertisement
The Plaza Hotel
Anchoring the corner of Central Park South and Fifth Avenue since it opened its doors in October 1907 is the 19-story landmark simply known as the Plaza. While not technically on the Upper East Side, the luxury hotel's history can fill a book of its own. And it has – several books in fact. It is also the stage for a key scene in F. Scott Fitzgerald's The Great Gatsby and Party of the Century, the masked ball where Frank Sinatra and members of the Kennedy and Rockefeller families celebrated Truman Capote and the success of his book In Cold Blood.
But in a building ripe with legend and charm, its best-known character is Kay Thompson's Eloise, the precocious six-year-old who finds all sorts of adventure and mischief within one of the City's most storied attractions.
For the most ardent fans, the Plaza offers the opportunity to "live like Eloise through a stay in Eloise's pink, pink, pink room, making reservations for Afternoon Tea in The Palm Court, or visiting her very own shop at The Plaza for outfits, accessories, books and more." Eloise even has her own public events calendar and Instagram account, though it seems that the COVID-19 pandemic has sidelined her schedule for the time being.
Central Park and the East 60s
Across from the Plaza Hotel is the Central Park lagoon (or Pond), the small, duck-filled body of water that eluded Holden Caulfield in J.D. Salinger's The Catcher in the Rye. "I've lived in New York all my life, and I know Central Park like the back of my hand, because I used to roller-skate there all the time and ride my bike when I was a kid, but I had the most terrific trouble finding that lagoon that night. I knew right where it was – it was right near Central Park South and all – but I still couldn't find it." (Salinger himself lived at 300 East 57th Street at Second Avenue.)
Advertisement
One of literature's true giants lived a stone's throw away from the memory of Caulfield's childhood. Ernest Hemingway rented a 900-foot, one-bedroom apartment at
1 East 62nd Street
 in the fall of 1959 in an effort to achieve some privacy while "already in the throes of a mental breakdown that would end with his suicide (at his house in Idaho) in 1961." It is believed that he worked on
A Moveable Feast
at this address, which was also the former "
haunted
" home of author and comedian Joan Rivers.
East 62nd Street and Lexington Avenue is where Joan Didion found her city life "mirage" while enjoying a peach from a local fruit stand. "I was late to meet someone but I stopped at Lexington Avenue and bought a peach and stood on the corner eating it and knew that I had come out of the West and reached the mirage. I could taste the peach and feel the soft air blowing from a subway grating on my legs and I could smell lilac and garbage and expensive perfume and I knew that it would cost something sooner or later."
One block north at 140 East 63rd Street is the Barbizon Hotel, where Didion and numerous other famous and influential women started their New York stories. The list includes novelists Ann Beattie, Barbara Chase-Riboud, Edna Ferber, Sylvia Plath, and Eudora Welty. The Barbizon was also the inspiration for Plath's novel The Bell Jar.
Though a native and long-time Upper West Sider, Dorothy Parker moved to the Upper East Side in the early 1930s. She lived at The Lowell Hotel at 28 East 63rd Street and churned out some of her best short stories there, including Lady With a Lamp, Dusk Before Fireworks, and The Waltz.